Who will be the right Little Dragon Girl?
(chinadaily.com.cn)
Updated: 2004-09-08 16:10
After months of searching, the jasmine-like appearance, outstanding performing skills and booming popularity of Sun Feifei made her the clear choice for the role of the Little Dragon Girl in the soon-to-be produced TV Series The Return of the Condor Heroes(dir. Shen Diao Xia Lu).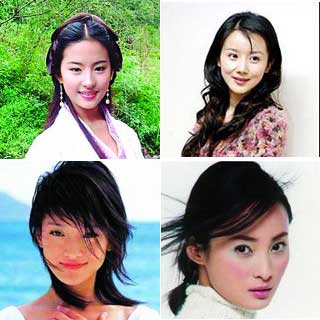 Liu Yifei (Top L) is the right choice in Jin Yong's heart; Sun Feifei (Top R) is recently rumoured to play the role of Little Dragon Girl; Zhou Xun (L) resigns from the heroine role; Jiang Qinqin (R) was voted by the public on line to be the the best pick for the role. [baidu]

The story, adapted from the novel by famous martial-arts writer Jin Yong, follows the struggles of the Little Dragon Girl, the role Sun will play.

At first, the producer of the series intended to invite Zhou Xun, who played Huang Rong in another famous novel by Jin Yong, to play the role of the Little Dragon Girl.

However, the choice was criticized by both the TV station and the fans of Mr. Jin Yong, who insisted that Zhou's appearance and temperament did not make her the right person for the role.

In fear of losing the favor of the domestic and overseas markets, the investors and directors were forced to reconsider the actress who would play the Little Dragon Girl.

After twists and turns, Sun Feifei became the lucky one by defeating other competitive candidates, such as Jiang Qinqin and Liu Yifei.

Sun Feifei, who has years of experience under her belt but is not yet widely known to Chinese audiences, graduated from the Beijing Dance Academy.

In a recent soap "Beijing, My Love" co-produced by China and Korea, she acted as a graceful college student, and won much support in Korea. The series will screen on CCTV in the coming October.




| | |
| --- | --- |
| | |
| Who will be the right Little Dragon Girl? | |

| | |
| --- | --- |
| | |
| Rock with a pattern similar to "Dancing Beijing" logo | |

| | |
| --- | --- |
| | |
| "Dynamic Yunnan" sets for world tour | |
Today's Top News
Top Life News

Southwest China floods leave at least 164 dead




Funding to ensure pension payments




CPC plenum to focus on ruling capacity




`Super rice' set to increase output




Russia offers $10m to hunt down rebels




US military deaths in Iraq pass 1,000