Outraged sedan owner gets asses to drag BMW
(Beijing Today)
Updated: 2004-09-07 09:50
The owner of a problematic BMW sedan hitched the car to a three-donkey team, planning to get the animals to drag the vehicle from Beijing to Hangzhou, Zhejiang Province.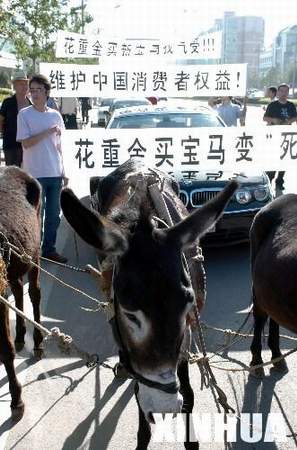 Three donkeys parade a street dragging a BMW at Beijing's fouth ring road. [xinhua]

The bizarre procession was cut short by police blockades shortly after it set out and the animals and other participants were sent packing.

The donkey train started its trek at the northwest corner of the Fourth Ring Road around 8 am. Behind them trailed the BMW 760i sedan as well as several people walking and carrying white banners that read: "Who can solve quality flaws with BMWs?" Traffic police halted the donkey team after only 40 minutes, drawing a large crowd of onlookers.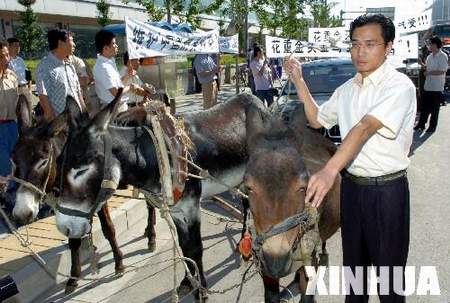 The BMW owner Lin Jie stands besides the odd donkey-before-sedan procession at Beijing's forth ring road. [xinhua]

Lin Jie, owner of the car and manager of the Shanghai Shali advertising company, told Beijing Today on Tuesday that his sedan became completely un-drivable less than six months after he bought it. "After I failed to negotiate with BMW's authorized local maintenance company to fix it,o I had to find the auto dealer, Zhongcheng Automobile Company in Hangzhou, to solve the problems," he said.

He explained that he had two reasons for arranging the donkey drive. First, it seemed the cheapest way to get the car to Hangzhou, and secondly, he wanted to draw public attention to "how BMW treats customers," he said.

It was not the first time a frustrated Chinese car owner used a strange stunt to get press coverage. In 2002, the owner of a faulty Mercedes-Benz car made headlines nationwide by arranging for several people to smash his luxury coupe with sledgehammers after he had the car repaired several times to no avail. Similar public foreign car flagellations occurred around the country shortly after.

Lin said he bought the car for more than 2 million yuan last November at the Harbin Auto Show.

"I found there was something wrong with the car alarm after Spring Festival. I immediately got it fixed at the Beijing Yanbao Automobile Service Company," Lin said.

"But I never expected that 11 more problems would crop up afterwards. Even the brakes just stopped working intermittently." Yanbao serviced the car several times, yet it still was so problem-ridden that it could not be driven, he said.

"The front door windows can't close now. The service center recommended I get a new central processor for the car, but I just want to know why a new car should require so much service."

Li said he had tried to get the company to agree to repair the car once and for all and to promise to refund his money if problems continued, but the company did not agree.

Ma Qingsheng, manager of the public relations department of BMW's China representative office told the Beijing Morning Post on Tuesday if Mr. Lin gave them a chance to repair the car, he could promise all the problems would be solved.

Lin said he still had doubts ¨C "I've already given them several chances."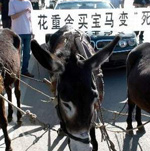 He told Beijing Today he felt he had no other choice but find the original dealer of the car in Hangzhou. "I really have no idea who can finally solve this problem. I know I canĄ¯t afford to keep getting it repaired," Li said.
The secretary of the Hangzhou dealership's manager, who asked not to be named, said the company would do its best to satisfy Mr. Lin, but added it would be impossible to simply give him a new car, because his sedan had already een driven more than 20,000 kilometers.
| | |
| --- | --- |
| | |
| Johnny Depp says he enjoys aging | |

| | |
| --- | --- |
| | |
| Dog show in Honolulu | |

| | |
| --- | --- |
| | |
| Clinton bypass likely next week | |
Today's Top News
Top Life News

China's new traffic law drives into hot dispute




90 dead, 77 missing in southwest storms




Hong Kong celebrates with Olympic stars




Clinton has successful quadruple bypass




Civil servants' study allowance sparks debate




China invites bidding on nuclear power plants