IPR disputes fuelled by auto makers
By Liu Li and Yu Qiao (China Daily)
Updated: 2004-09-06 09:14
China's booming auto industry appears to be a new battle field over intellectual property rights (IPR) as a number of home-grown producers are being charged with piracy by big foreign names.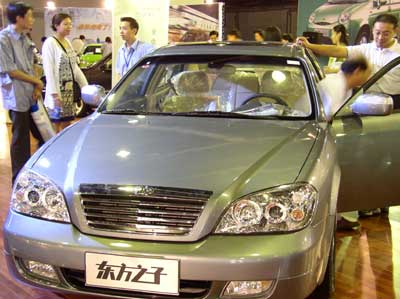 Potential buyers experience a new model of domestic auto maker Chery. General Motors announces last November that they would carry an investigation into Chery's new model, Dongfangzhizi, to see whether it copies a GM model. [newsphoto]
Japanese motor companies, such as Toyota, Honda and Nissan, have acted as plaintiffs in IPR lawsuits against China's young automakers.
A number of Chinese automakers that have their own brand cars have been accused of copyright infringement, patent right infringement and unfair competition.
They are: Geely, Chery, Lifan, Shuanghuan and Great Wall Motors.
Japanese Honda brought two actions against China's largest private motorcycle manufacturer - Chongqing Lifan Industrial Group - in Beijing and Shanghai.
Neither of the two lawsuits reached judgment.
A year-long trademark dispute between Honda Motor and Lifan Industrial Group has opened twice for hearing - in November last year and June this year - at the Beijing No 2 Intermediate People's Court.
The case was placed on file in late 2002.
The symbol of Hongda, the pronunciation of Lifan's former company name, has been taken by the Japanese auto giant as violating its trademark rights.
A compensation of 12.5 million yuan (US$1.5 million) has been asked for by Honda for the Chinese company's alleged illegal profits from trademark infringement.
The Japanese plaintiff also asked for public acknowledgement by the accused Chinese company in the People's Daily.
The defendant - Lifan Industrial Group - absolutely denied Honda's accusation.
Sources with Lifan said the infringing products used as evidence of Honda were not produced by Lifan.
"Our trademark Lifan is very famous in China. Lifan is even more well-known than Honda among consumers for middle and cheaper motorcycles," Lifan's bill of defence said.
The defendant concluded that the Lifan products need not use trademarks similar to Honda at all.
In Shanghai, Honda said that Lifan had infringed its patent rights over two motorcycle parts .
Meanwhile, Shuanghuan Automobile Company in North China's Hebei Province is also alleged by Honda Motor to have infringed design.
In November last year, Honda filed a lawsuit with the Beijing High People's Court against Shuanghuan, alleging the Laibao SRV of the Chinese company copies the Japanese car maker's CR-V sport utility vehicle.
Compensation of 100 million yuan (US$12 million) was asked for by Honda.
Honda started to assemble the CR-V in April at its joint venture in Central China's Hubei Province.
No hearing was ever held at the court.
Before Honda's accusation, Shuanghuan put forward prosecution in October last year at the Shijiazhuang Intermediate People's Court to confirm its products did not violate the patent rights of Honda.
Another Japanese name, Nissan, is also involved in charging Chinese companies with IPR infringement.
Nissan claimed that the Sing SUV cars of the Great Wall Motor Company copied the design of the SUV Frontier by Nissan sold in the United States.
Nissan sources said the appearance of the Great Wall Sing SUV is nearly the same as Nissan SUV frontier, especially the lights, bumper and engine cover.
But Great Wall Motor Company sources said in a statement that its products are developed and produced on its own, not copies of others.
"We did not infringe the IPR of any other motor producers," the statement said.
The Great Wall Motor Company owned three items of design patent and applications for another 28 patents are in preparation, company sources said.
Design of the Sing SUV is among the patents in application.
Nissan said late last year that they are planning to sue the Great Wall Motor Company. But no judicial move has been reported.
Chery under fire
Besides Japanese auto companies, US General Motors (GM) announced last year the QQ mini car of Chery Automobile Company in East China's Anhui Province is suspected of copying the world's No 1 auto maker Chevrolet's Spark.
GM claimed that both the QQ and Spark are based on the Matiz of South Korea's Daewoo Motor, which has been already acquired by GM.
The Spark is produced at GM's joint venture in South China's Guangxi Zhuang Autonomous Region.
GM China Group said that it had finalized investigation on Chery's alleged piracy.
But Chery Automobile Company announced that the QQ mini cars were developed by itself, with various patent rights already achieved.
Chery said they are not violating any IPR rights of other auto makers.
The Ministry of Commerce invited GM representatives and officials from relevant Chinese departments late last year for discussions on how to solve the dispute between GM and Chery.
But no result was ever reported.
Among the rising number of IPR lawsuits and disputes between foreign and domestic auto makers, the only judgment so far was made in November last year in the lawsuit put forward by Toyota against Chinese automaker Geely for trademark infringement and unfair competition.
Geely won the case, which was the first ever foreign-related motor lawsuit after China's entry to the World Trade Organization.
The Beijing No 2 Intermediate People's Court rejected Toyota's claim, which required compensation of 14 million yuan (US$1.7 million) from Geely - one of China's major economy car producers based in Zhejiang.
Toyota claimed that the logo of Geely is similar to that of Toyota, resulting in trademark infringement and unfair competition.
An advertisement by Geely is also charged by Toyota of intentionally misleading consumers of having relations with the Japanese brand.
After losing the case, Toyota did not appeal to a higher court last year and followed the judgment, sources with the court said.

Today's Top News
Top China News

Asian political parties pledge co-operation




55 dead in Sichuan floods, 52 missing




ASEAN recognizes China as market economy




Russians burying attack victims, 350 dead




Saddam's top aide Ibrahim captured




Britain still waiting for Chinese tourists