Russians burying attack victims, 350 dead
(Agencies)
Updated: 2004-09-06 08:54
Mothers wailed over the coffins of their children Sunday and dozens of townsmen dug graves in a football field-sized piece of scrubland next to the cemetery. Funeral processions snaked through the streets of this grief-stricken town as Russians began to bury victims of the terror attack on a school that left more than 350 people dead.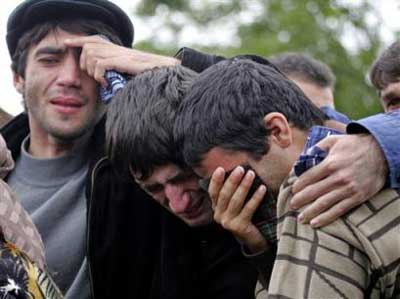 Relatives cry at the funeral of victims of the school siege in Beslan, north Ossetia, Sunday, Sept. 5, 2004. Wails of mourning echoed through the streets of this southern Russian town on Sunday in the wake of the school hostage taking that left at least 350 people dead. [AP Photo]
Frantic relatives also were still searching for 180 people still unaccounted for ! many of them children ! two days after the bloody climax of the hostage crisis that left few families untouched in this tight-knit, mostly industrial town of 30,000.
Weeping mourners placed flowers and wreaths at the graves, including one where two sisters Alina, 12 and Ira Tetova, 13 ! were laid to rest together. Relatives walked toward the cemetery bearing portraits of the dark-haired girls and simple wooden planks ! temporary grave markers ! bearing their names and the dates framing their short lives.
Both listed the date of death as Sept. 3, 2004, the day the hostage seizure ! the third deadly terrorist attack to strike Russia in just over a week ! ended in an a bloody wave of explosions and gunfire as commandos stormed the school and hostages fled after powerful blasts shook the building.
Wails of mourning women echoed from courtyards where families made ritual meals, while surveyors used wooden planks and string to mark new graves being dug in a field near the town's cemetery.
"When a person goes to the cemetery for a burial, it's sad, but nothing like this ! when you dig graves for your children," volunteer gravedigger Anzor Kudziyev, 25, said. "The grief is for all of our people."
Officials in the southern North Ossetia region scrambled to identify and confirm the number of people killed amid conflicting reports, apparently confused in part because of the large number of body fragments collected at the school.
North Ossetia's health minister Alexander Soplevenko said at least 340 people were dead, while his deputy Taimuraz Revazov said 324 fatalities were confirmed. The Interfax news agency quoted regional government spokesman Lev Dzugayev as saying the toll stood at 338, but he later said in televised comments that the number was 335.
The regional health ministry said 180 people were missing after the three-day hostage crisis, which began when armed attackers raided School No. 1 on Sept.1, the first day of classes, seizing students, teachers and parents attending opening-day ceremonies.
ITAR-Tass later cited a Beslan city official as saying that a list of children unaccounted for included 176 names. Russian media speculated that some of the missing could be among the wounded brought to hospitals in North Ossetia, unconscious or too deep in shock ! or too young ! to identify themselves.
The health ministry said 207 of the dead had been identified, but some bodies were charred beyond recognition. Questions also remained about the number and identity of the hostage-takers ! heavily armed and explosive-laden men and women reportedly demanding independence for the nearby republic of Chechnya.
More than 700 people needed medical help after the crisis, and Interfax quoted Dzugayev as saying that as of late evening 386 remained hospitalized in the region, including 184 children. Several badly wounded victims have been taken to Moscow hospitals.
Russian Deputy Prosecutor General Sergei Fridinsky said Sunday that according to the latest information, 32 militants had been involved and the bodies of 30 of them had been found, according to the Russian news agency Interfax.
But Interfax also reported that three suspects were detained in Beslan on Saturday, citing unnamed law enforcement sources, and Channel One showed footage of one alleged attacker in the hands of law enforcement officers. The station also reported, without citing a source, that the attackers included Kazakhs, Chechens, Arabs, Ingush and Slavs.
North Ossetian Interior Minister Kazbek Dzantiyev, meanwhile, offered his resignation, said Alexander Andreyev of the southern regional branch of the Russian Interior Ministry.
"After what happened in Beslan, I don't have the right to occupy this post as an officer and as a man," ITAR-Tass quoted Dzantiyev as saying. Channel One quoted a regional spokesman as saying it had not yet been accepted.
Muradi Nartikoyev, a town elder who was officiating at mourning ceremonies, said the whole regional government should step down. "If they had fulfilled their duty, this would not have been possible," he said.
As some residents buried their dead, others searched for missing relatives at the school, where window sills were strewn with red and pink roses and abandoned children's shoes littered the floor.
Svetlana Tebloyeva returned to the ruined red-brick school building Sunday morning clutching a picture of her 11-year-old son, Zaur. She said she'd searched hospitals and morgues but had yet to find her son, whom she last saw in the school gymnasium before the standoff ended Friday.
"I lost my boy," she cried.
The regional health ministry has identified 207 of the dead but the painstaking process of identifying the others could take a long time, with some bodies charred beyond recognition.
Officials said 386 people remained hospitalized Sunday in North Ossetia, including 184 children, Interfax reported. Several badly wounded victims have been taken to Moscow hospitals.
Russian officials said the bloodbath began when explosions were apparently set off by the militants ! possibly by accident ! as emergency workers entered the courtyard to collect the bodies of hostages killed earlier.
They said the militants opened fire on the hostages who started to flee in the confusion, prompting security forces and armed locals to return fire and send in commandos.
Blasts also tore through the roof of the bomb-wired gymnasium, where hundreds of hostages had been herded by their captors, sending wreckage down on victims, crushing many of them.
Beslan, about 940 miles southeast of Moscow, has several industries and farms, as well as the region's main airport, but it had enjoyed a village atmosphere in which many people left their doors unlocked.
The school seizure came a day after a suicide bombing in Moscow killed nine people and just over a week after two Russian passenger planes crashed following explosions, killing all 90 people aboard ! two attacks authorities suspect were linked to Russia's ongoing war in Chechnya.
A shaken President Vladimir Putin went on national television Saturday to make a rare admission of Russian weakness in the face of an "all-out war" by terrorists. He told the Russian people that they must mobilize against terrorism and promised wide-ranging reforms to toughen security forces and purge corruption.
"We showed weakness, and weak people are beaten," Putin said, blaming economic problems, ethnic discord and porous borders left in the wake of the collapse of the Soviet Union in 1991.
Putin took a defiant tone, acknowledging corruption in Russian law enforcement agencies but lashing out pointedly at unspecified foreign foes seeking to tear the country apart.
North Ossetian President Alexander Dzasokhov apologized, choking up in televised comments. "We were unable to protect our children, our teachers and our parents, he said.
Today's Top News
Top World News

Most-wanted: Saddam's top aide Ibrahim captured




55 dead in Sichuan floods, 52 missing




ASEAN recognizes China as market economy




Russians burying attack victims, 350 dead




Britain still waiting for Chinese tourists




Asian parties laud CPC's governing capability