55 dead in Sichuan floods, 52 missing
(Xinhua)
Updated: 2004-09-06 07:30
The death toll from rainstorm-triggered floods in the northeastern part of Sichuan Province, southwest China, had risen to 55 and the missing increased to 52 by 23:30 Sunday, according to the provincial flood control office.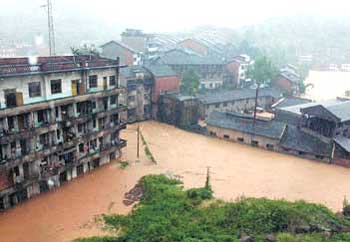 Binlang township in Daxian County, southwest China's Sichuan Province, is flooded after days of rainstorms September 5, 2004. Flooding, landslides triggered by heavy rains have killed 55 people and left 52 missing in the province. [Xinhua]

Heavy rainstorm, which was claimed as the most destructive in the province so far this year, has hit the cities of Dazhou, Nanchong and Bazhong since Thursday.

The rainstorm incurred mountain torrents, landslides and mud-rock flow in these areas, leaving hundreds of local people trapped in floods, houses and farmland destroyed and transportation cut off.

The officials with the provincial flood control office told Xinhua the downtown areas of Dazhou City, which suffered the most serious damages in the rainstorm, has been "isolated" as the flood caused cave-ins on urban roads and destroyed highways linking the city with the outside world.

In the city's Nanwai town alone, all the houses in the town were besieged by the flood water and the roads were submerged by one-meter-deep water.

Local governments have sent police and armed police officers to evacuate residents trapped by floodwater and sent relief to the flood-affected areas.

In addition, the provincial government has dispatched three work teams to the flood-affected areas to monitor the rescue work while asking the airforce and navy for help.

However, most of the disaster-affected people were scattered inthe foothills and mountainous areas with poor traffic conditions, which brought great difficulties to the rescue work, according to the office.

Zhao Guangzhong, director of the provincial meteorological station, said except for a short break Sunday night, the rainstorm would continue through Sept. 7.






Today's Top News
Top China News

IPR disputes fuelled by auto makers




Asian political parties pledge co-operation




55 dead in Sichuan floods, 52 missing




ASEAN recognizes China as market economy




Russians burying attack victims, 350 dead




Toyota, partner to invest US$461m in China