Cuba breaks ties with Panama over bomb pardon
(Agencies)
Updated: 2004-08-27 09:26
Cuba cut diplomatic ties with Panama on Thursday after its outgoing leader pardoned four Cuban exiles who plotted to kill President Fidel Castro in 2000.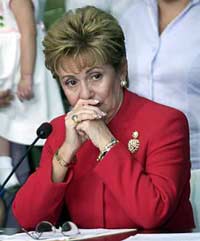 Panamanian President Mireya Moscoso speaks to the press in Panama City August 26, 2004. The outgoing president on Thursday pardoned four Cuban exiles jailed for plotting to kill Cuban President Fidel Castro in 2000 and three or them flew straight to Miami, a haven of anti-Castro groups. [Reuters]
Panama's conservative President Mireya Moscoso, who leaves office next week, said she freed the Cubans for humanitarian reasons.
Three of the plotters were Cuban-born U.S. citizens and on their release they flew directly to a small airport in Miami, where they were met by their families.
The Cuban government called Moscoso an "accomplice and protector of terrorism" and said in a statement that diplomatic relations with Panama were broken off indefinitely.
Havana described the pardon as "an affront to the victims of terrorism and their families" and said history would hold Moscoso responsible for "new crimes these abominable assassins commit in the future."
The pardoned men were among six sentenced in April for their part in a failed attempt to bomb a University of Panama auditorium where Castro was due to speak during a summit of Iberian and Latin American leaders.
Among those freed was prominent anti-Castro activist Luis Posada, who escaped in the 1980s from a Venezuelan jail where he faced charges of planning the 1976 bombing of a Cuban airliner that killed 73 people. Posada is not a U.S. citizen so he did not travel to Miami, and it was unclear where he was.
Moscoso said she freed the four because they were convicted for relatively minor crimes rather than attempted murder and denied suggestions that the United States had pushed her into it.
"I knew that if these men stayed here, they would be extradited to Cuba and Venezuela and there they were surely going to kill them," she told a news conference.
A Panamanian court in April sentenced the exiles to prison terms of seven and eight years on charges of endangering public safety and falsifying documents. It ruled there was not enough evidence to try them on charges of attempted murder.
Moscoso said she received anonymous death threats after issuing the pardons. "There are threats against my life," she told reporters. "They have been calling to say they're going to kill me, but I'm not scared."
US Denies Involvement
The State Department denied having persuaded Panama to grant the pardon.
"This was a decision made by the government of Panama. We never lobbied the Panamanian government to pardon anyone involved in this case," spokesman Adam Ereli told reporters in the U.S. capital.
Washington's decades-old dispute with Cuba has been fanned by US President Bush's tough new restrictions on traveling or sending family remittances to the island.
Moscoso has enjoyed close relations with the Bush administration.
Cuba wanted the men extradited and Venezuela also sought Posada. He was never convicted of the Cuban airliner bombing but was arrested in Venezuela and denied bail for nine years until he escaped from prison disguised as a priest in 1985.
The break with Panama was Cuba's latest diplomatic rift with a Latin American neighbor. Peru and Mexico withdrew their ambassadors from Havana in May after Castro sharply criticized their support for a U.N. censure of Cuba's rights record. The Mexican envoy returned to the island in July.
Panama's President-elect Martin Torrijos said he disagreed with the pardon and pledged to work to repair relations with Cuba once he takes office on Wednesday.
Today's Top News
Top World News

China urges Japan to teach true history




China's Guo easily wins 3m springboard




Iraqi government, Al-Sadr OK peace deal




Authorities acting to prevent epidemics




Report: Agricultural situation improves




Official promises action on arrears