China wins gold in 3m springborad diving
(Xinhua)
Updated: 2004-08-27 03:45
China finished one-two through Guo Jingjing and Wu Minxia in the women's 3m springboard diving final at the Olympic Games on Thursday.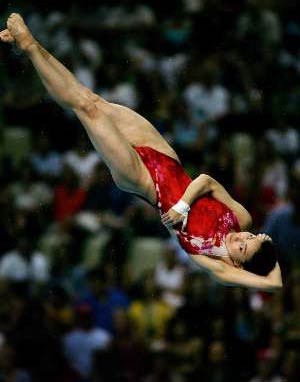 Guo Jingjing of China dives on her way to winning the gold medal in the 3 metre women's springboard final at the Athens 2004 Olympic Games August 26, 2004. [Reuters]

Guo and Wu, who won the 3m synchronized gold earlier in the Olympic diving tournament, took the gold and silver at 633.15 and 612.00 points respectively.

The bronze medal was taken by Yulia Pakhalina of Russia at 610. 62.

It's China's 25th gold and 17th silver. China now ranks 2nd on the Athens gold medal tally with one gold less than the United States.




Today's Top News
Top Sports News

Authorities acting to prevent animal epidemics




China wins gold in 3m springborad diving




Iraqi government, Al-Sadr OK peace deal




Tokyo urged to teach true history




Report: Agricultural situation improves




Official promises action on arrears