China kicks off fuel oil futures in Shanghai
(newsphoto)
Updated: 2004-08-26 09:37
China, the world's No. 2 oil consumer, rolled out fuel oil futures for the first time in a decade Wednesday, offering hedging tools to firms wincing at sky-high prices and paving the way for crude oil derivatives.

On Wednesday, the most active January contract closed 4 percent higher at 2,184 yuan ($263.90) a ton on the Shanghai Futures Exchange, having risen 77 yuan to 2,175 at the outset. Volume was a healthy 91,528 lots.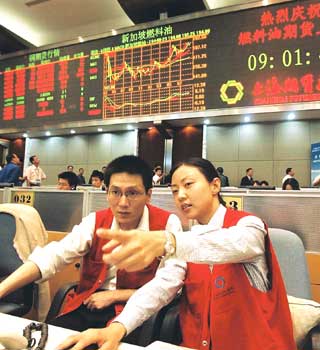 Xiao Rong (R) and Cao Hong (L), two traders of the Shanghai Futures Exchange, discuss an oil futures option August 25, 2004. With approval from the China Securities Regulatory Commission, the futures exchange began to offer oil futures option trading on Wednesday. China is the second largest oil consumption country and the third largest oil importer in the world. [newsphoto]

Prices for the contracts, with a base value of 2,098 yuan a ton, compared with physical prices of about 2,150-2,180 yuan on an ex-terminal basis, traders said.

Fuel oil futures will allow Beijing to test the waters before approving crude oil derivatives -- vital to help hedge risks as oil prices have hovered near a record $50 a barrel.

Some Chinese analysts said companies now trading in Singapore might return to the mainland, helping Shanghai to eventually take over from the island nation in setting regional benchmarks. Others said it was too early to say.

But for now, the revival of futures in fuel oil -- the country's least regulated oil product -- is part of financial reforms aimed at resuscitating China's derivatives arena.

Before their launch, domestic firms had recourse to limited hedging tools. Now regulators are stepping up the pace.

They started futures for cotton earlier this year and plan to do the same for corn in September.

Companies in China, which imports more than a third of the 6 million barrels of oil it needs daily, are grappling with rising competition as Beijing opens a closely guarded sector to foreign players such as Royal Dutch/Shell Group.

Only 26 firms had government approval to trade derivatives on overseas exchanges such as the New York Mercantile Exchange (NYMEX), the International Petroleum Exchange (IPE) and the Tokyo Commodities Exchange (TOCOM).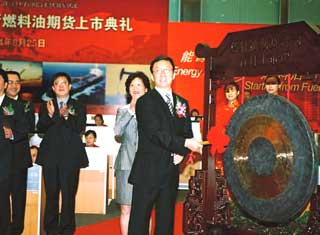 Han Zheng, mayor of Shanghai, strikes the gong to open the oil futures trading at the Shanghai Futures Exchange August 25, 2004. [newsphoto]

"Oil futures are not only the next step in the reform and opening of China's markets, it will aid in their expansion," Shang Fulin, head of the China Securities Regulatory Commission, said during a launch ceremony at the city's exchange.

"Fuel oil futures are the first step to what we hope will eventually include a full slate of oil derivatives," he told traders and local executives in the cavernous hall of the Shanghai Futures Exchange in the city's financial district.

Traders manned scores of telephones, screens and gleaming new computers. There is no open outcry, unlike the 132-year-old NYMEX -- the world's largest physical commodity futures exchange.

Good timing

The launch of fuel oil futures comes amid a daunting period for the world economy, with sky-high oil prices threatening expansion. U.S. oil futures have surged almost 50 percent since the start of the year.

But analysts said the debut was well timed, after China hiked domestic retail gasoline and diesel prices by about 6 percent Wednesday, in line with higher oil prices on global markets.

"The opening prices were stronger than expected, mainly buoyed by news that China has raised retail oil prices," said Wu Jun, a fuel oil analyst at China International Futures.

China is Asia's largest buyer of fuel oil -- a heavy, dirty hydrocarbon used to operate ships, power generators, and steel and porcelain mills.

In the first seven months of 2004, imports of all fuel oil grades jumped 40 percent to 18.6 million tons, official data showed.

Fuel oil futures trade would be open to mainland-based companies, including foreign-invested firms and joint ventures.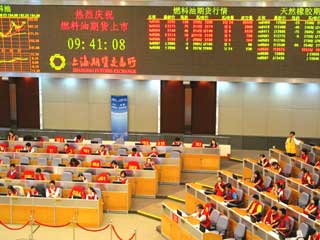 Traders are busy with oil futures transactions after the opening of the market in Shanghai August 25, 2004. [newsphoto]

Theoretically, any foreign player registered in China, such as oil majors BP and ExxonMobil Corp., could apply for a license to trade.

More than 200 members of the Shanghai futures exchange and nearly 20 Chinese fuel oil traders, including Sinopec subsidiary Unipec, PetroChina unit Chinaoil and Sinochem, would also be eligible.

Regulators will keep an eye on the market after having to shut down fuel oil futures in 1994 over rife speculation.

Whereas China once hosted dozens of exchanges, there are now just three. Two are based in Dalian and Zhengzhou, and they collectively host trading in derivatives for copper, aluminum, rubber, soybeans, soymeal, wheat and cotton.





Today's Top News
Top China News

World oil price spike hits Chinese market




Russia investigates twin plane crashes




Coastal provinces braces for typhoon strike




China reassures air passengers




Liu Xiang in good form, Johnson crashes out




Heavy rains raise water level in Yellow River