Report: Russian jets hijacked before crash
(Agencies)
Updated: 2004-08-25 11:25
Two passenger jetliners have crashed over Russia in nearly simultaneous incidents, with as many as 94 people feared killed. Russian news agency Interfax reported that a hijacking signal was activated on the second plane before it went missing.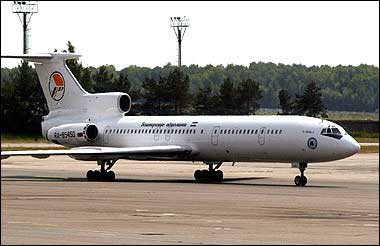 File photo of a Russian TU-154 (Tupolev-154) aircraft in Moscow. A Tu-154 airplane crashed near the southern city of Rostov-on-Don, while a Tu-134 aircraft crashed en route to Volograd, officials said. [AFP/file]
Authorities have expressed concern that separatist rebels in the southern republic of Chechnya could carry out attacks linked to this Sunday's presidential election there. Rebels have been blamed for a series of terror strikes that have claimed hundreds of lives.
A ministry spokeswoman said the wreckage of one jet was found ablaze in the Tula region, about 160 kilometers (100 miles) south of Moscow.
Search and rescue teams were at the site searching for possible survivors, but the ministry said none of the 34 passengers and eight-member crew are believed to have survived.
The wreckage of the second jetliner has also been found, Russian state television reported early Wednesday, citing aviation officials. It was reported missing minutes after the first crash.
They did not say whether any survivors were found.
Russian President Vladimir Putin has ordered security services to launch an immediate investigation, Russian news agencies reported early Wednesday.
The flights took off from Moscow within minutes of each other Tuesday night and were bound for cities in southern Russia.
Witnesses reported seeing the first plane explode before it crashed, the Russian news agency Interfax reported.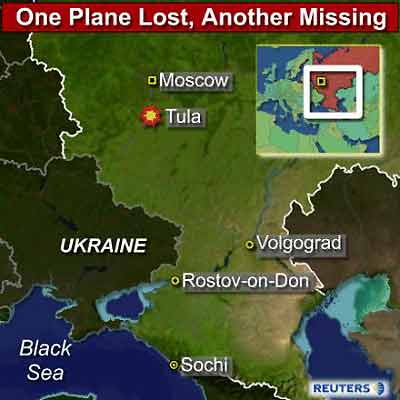 Two Russian passenger planes with a total of more than 80 people on board went missing within minutes of each other late on August 24, 2004. One plane bound for Volgograd was confirmed down near Tula. Officials also reported losing contact with another plane bound for Sochi near Rostov-on-Don. Both flights originated in Moscow. [Reuters]
The government-run news agency Ria Novosti reported that the plane's wreckage was in two separate locations.
The second plane, carrying with between 46 and 52 people on board, was about 100 miles (160 kilometers) from Rostov-on-Don when it dropped off radar screens.
The first plane disappeared from radar at 10:56 p.m. (0756 GMT), the news agency said.
The Tupolev-134 had taken off from Moscow's Domodedovo Airport and was en route to Volgograd, in southern Russia.
The second plane, a Tupolev-154, disappeared from radar at 10:59 p.m. after having taken off from the same airport en route to Sochi, a tourist resort on the Black Sea in southern Russia, the ministry spokeswoman reported.
The Tupolev-154 is a standard medium-range airliner on domestic flights in Russia, according to aviation websites.
Russian authorities offered no explanations for the crashes but said they had increased security at airports following an explosion at a Moscow bus station earlier Tuesday, which injured three people.
"If this were just one, you would look toward some sort of aircraft issue," Peter Goelz, a former managing director of the U.S. National Transportation Safety Board, told CNN.
"But with two of them going down so close together, it's awfully ominous."
The incidents also took place just days before a regional election in the rebellious southern territory of Chechnya, where Russian troops have battled separatist guerrillas for five years.
Chechen separatists have been blamed for numerous bombings and other attacks in Russia in recent years, including the seizure of hundreds of hostages at a Moscow theater that ended with more than 100 hostages dead.
Today's Top News
Top World News

Bank of China turns into joint stock firm




Report: Russian jets hijacked before crash




Action taken to prevent bird flu spreading




Eastern provinces prepare for typhoon




Report: Abu Ghraib was 'Animal House'




Guangdong to auction most of official cars