Court rejects students' kiss video lawsuit
(eastday.com)
Updated: 2004-08-24 09:51
Shanghai Hongkou District People's Court yesterday rejected a lawsuit filed by two college students against Fuxing High School.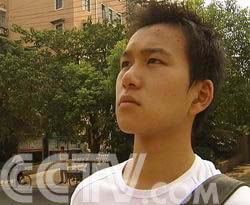 Wei Gang and his girlfriend has filed a lawsuit againt Fuxing High School over a breach of privacy. [cctv]

The students graduated from Fuxing last year and filed over a breach of privacy.

Wei Gang and his girlfriend, who didn't want to be named, said the school violated their privacy by setting up cameras in classrooms and broadcasting their passionate kiss to the whole school.

The couple asked Fuxing to apologize in Youth Daily newspaper and on campus. They also demanded 10,000 yuan (US$1,205) compensation for mental anguish.

The school aired a tape which contained scenes of students violating guidelines on April 7, 2003.

In addition to people sleeping during class or kicking a ball indoors, Wei and his classmates were shocked to find he was captured on video kissing his girlfriend.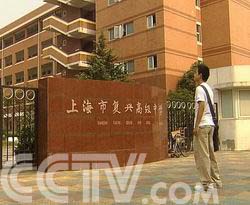 Wei Gang, a college student now, stands at the gate of his alma mater, Shanghai Fuxing High School. [cctv]

"We soon became the subject of constant mockery and were known by all students and teachers in the school," Wei said during the first hearing on January 19.

Wei argued that the event imposed such a strong negative influence that his girlfriend even considered committing suicide by jumping off the fifth floor of Fuxing High School.

The couple also claimed the stress affected their performance on the college entrance examinations.

Both Wei and his girlfriend did poorly on the examination, according to the lawsuit.

Wei claimed both should have achieved better results since Fuxing is one of the best high schools in the city.

The school argued the broadcast was not a privacy intrusion since Wei kissed the girl in a public place with 20 other students present.

"Their classmates and teachers knew they were a couple, so it can't be recognized as privacy," said Tao Xinliang, the school's attorney.

Students were also told that the school had installed cameras in classrooms and hallways to monitor behavior. The only areas free of cameras were toilets and dormitories.

Si Weijing, the couple's attorney, argued that the school had no right to broadcast the image. By doing so, it infringed the couple's right to privacy.

But Tao insisted that broadcasting the tape was just to educate students.

"The school used a technique to cover all faces appearing in the video. It didn't aim to hurt anyone in particular," Tao said.

The court ruled that Fuxing High School has the right to monitor student behavior and agreed that the couple were in a public place





| | |
| --- | --- |
| | |
| 'Yunnan Reflections' staged in Changshan | |

| | |
| --- | --- |
| | |
| Tidbits of Beijing life | |

| | |
| --- | --- |
| | |
| Charity fund established | |
Today's Top News
Top Life News

Vice-premier: Pay all owed wages to migrant workers




China cancels 4,800 development zones




Yao lifts China into Olympic quarter-finals




Law to protect HB virus carriers




Games stadium redesign may save US$336m




Ministry denies pig's bird flu infection