Exam paper leaking virus detected
(eastday.com)
Updated: 2004-08-24 09:12
Beijing Jiangmin Science Technology Co Ltd said yesterday that it had detected a computer virus, which can specifically steal files with names such as "exam" or "test questions," possibly leading to leakage of exam papers.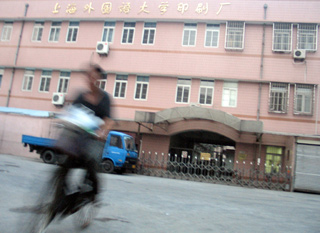 A June 22 photo shows the printing station of Shanghai International Studies University, which, according to reports, leaked the CET-4 test paper. [newsphoto]

The virus, named "exam theft," can infect Microsoft Word and Excel files and upload the ones with the special names to fixed IP addresses. After that, the author of the virus can get the tainted files and probably access questions in exam papers beforehand.

"But we haven't found a direct link between the new virus and the exam paper leak that occurred two months ago," said Cao Lingxiang, a public relations official at Jiangmin, a Beijing-based Internet security firm.

The alleged exam cheating has triggered a wave of concern recently after local media reported in June that so-called exam papers were available even before the College English Test, an official English level test in China, began.

Questions of this year's CET Band Four, including composition topic and listening comprehension questions, were put up on message boards of several Websites in the country at 2am, seven hours before the national exam was scheduled to kick off at 9am.

Each copy of the printed version of these questions was priced at hundreds of yuan in the black market.

"As the national exam involves many procedures before it begins, we still don't know where and at which step the leak occurred," Jin Yan, office director of the National College English Test Committee, said in a previous interview.

Anti-virus experts speculate that such leakage may have been caused by a computer virus although they detected "exam theft" only in the middle of August.




| | |
| --- | --- |
| | |
| 'Yunnan Reflections' staged in Changshan | |

| | |
| --- | --- |
| | |
| Tidbits of Beijing life | |

| | |
| --- | --- |
| | |
| Charity fund established | |
Today's Top News
Top Life News

Vice-premier: Pay all owed wages to migrant workers




China cancels 4,800 development zones




Yao lifts China into Olympic quarter-finals




Law to protect HB virus carriers




Games stadium redesign may save US$336m




Ministry denies pig's bird flu infection