Virtual girlfriend could end dating woes
(Agencies)
Updated: 2004-08-24 08:47
She needs to be coddled with sweet talk and pampered with gifts, but you'll never see her in the flesh, says a Hong Kong company that's developing a "virtual girlfriend" for new cell phones with video capability.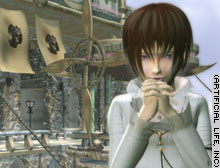 Phone passion. The company hopes to develop a virtual boyfriend for women next year.

Artificial Life, Inc.'s electronic love interest will appear as an animated figure on a telephone screen. But she'll require a lot of attention, involving virtual flowers and diamonds, company spokeswoman Ada Fong said on Monday.

The gifts will keep the relationship going from one level to the next -- and even though it's all made up of cold, hard data, suitors will have to pay cold, hard cash for the gifts.

The amounts have yet to be determined, Fong said.

Users of so-called third-generation, or 3G, cell phones who subscribe to the game can send text messages to the virtual woman, who'll respond by voice, Fong said.

If she's neglected, "she'll be unhappy and she won't talk to you," she added.

The game doesn't allow interactions of a sexual nature, Fong said, calling it "suitable for all ages."

The company hopes to develop a virtual boyfriend for women by early next year.

The virtual girlfriend is similar to the popular Tamagotchi "pet" concept developed by Japan's Bandai Co., Fong said.

Artificial Life hopes to launch the service in the English, Japanese and Korean languages in late November. No 3G operators have agreed to offer it yet, she said.




| | |
| --- | --- |
| | |
| 'Yunnan Reflections' staged in Changshan | |

| | |
| --- | --- |
| | |
| Tidbits of Beijing life | |

| | |
| --- | --- |
| | |
| Charity fund established | |
Today's Top News
Top Life News

Vice-premier: Pay all owed wages to migrant workers




China cancels 4,800 development zones




Yao lifts China into Olympic quarter-finals




Law to protect HB virus carriers




Games stadium redesign may save US$336m




Ministry denies pig's bird flu infection