Peace-keeping force sets out for Congo
By Guo Nei (China Daily)
Updated: 2004-08-21 00:34
The third Chinese peace-keeping force Friday left Beijing for the Democratic Republic of the Congo (DRC) to replace a second batch which has been implementing the UN mission there since last December, official sources said on Friday.
The Chinese Blue Helmet troops, made up of 100 personnel including a sapper company and a medical team, flew to the DRC.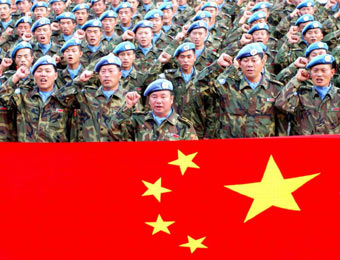 One hundred Chinese peacekeepers swear an oath at a ceremony in Beijing on Friday before flying to the Democratic Republic of the Congo. They are the third batch and will replace those Chinese peacekeepers that have finished their term. China joined the United Nations' peacekeeping mission in January 2002. [Xinhua]


All received training in light arms, field survival, driving and fitness before leaving for the African nation, and had to pass strict examinations to make sure they were capable of the work.

"We will complete our peace-keeping mission with the experiences gained from the first two batches," Qin Bokai, a 46-year old lieutenant colonel, told Xinhua News Agency.

The first Chinese contingent with a sapper company of 175 members and a medical team of 43 was send to the DRC last April.

China has so far also sent 550 peacekeepers to Liberia.

Chinese officials said that as a permanent member of the UN Security Council, China has always supported the UN's peace-keeping operations and its efforts to settle the conflict in Africa, and has actively participated in operations in the region.

China decided to designate non-battle troops to join the UN on-call system in January 2002. By now an engineer battalion, a medical team and a transport team have joined the UN's on-call force, according to Xinhua.

According to data released by the Ministry of National Defence, 1,450 Chinese servicemen, including 650 military observers and 800 engineers, have participated in such operations in ten regions since 1990. Four servicemen died in these operations. Currently 53 Chinese military observers are in operations in six regions.




Today's Top News
Top China News

China gets 15th gold




Nation adopts `Green Card' system




Ministries launch copyright campaign




Rules protect rights of detainees




Tipping tour guides sparks heated debate




Peace-keeping force sets out for Congo