China issues `Green Card' to foreigners
By Jiang Zhuqing (China Daily)
Updated: 2004-08-21 00:34
Foreigners may now apply for official permanent residence in China under a system similar to the US "Green Card" scheme.
The Ministry of Public Security said "high-level foreigners or foreigners who make large direct investment" may apply for permanent residence status and if successful, live in the country indefinitely.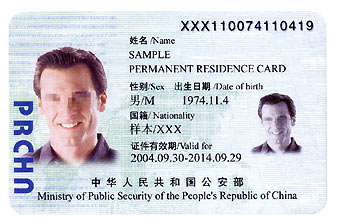 An sample of the "green card",the permanent residence card. [newsphoto/file]

The issue of the Regulations on Examination and Approval of Permanent Residence of Aliens in China indicates the official implementation of the "Green Card'' system in China, said MPS Spokesman Hao Chiyong at a news conference in Beijing on Friday.

"This is a significant move by the Chinese Government to adapt to economic globalization and push forward reform and opening-up and the modernization of socialism still further, and normalize the regulation of examination and approval of permanent residence of aliens in China," said Hao.

The 29-article regulations include provisions on the prerequisites for non-Chinese to apply for permanent residence permits. The regulations set out which supporting documents will be required, which steps must be followed, what limits there are to authority and any cancellation of eligibility.

Foreigners considered able to meet certain requirements will be eligible to live in China indefinitely.

The regulations also specify who the new rules are aiming at.

Eligibility will apply mainly to high-level foreign personnel who hold posts in businesses which promote China's economic, scientific and technological development or social progress, foreign citizens who make relatively large direct investment in China, foreigners who have made outstanding contributions or are of special importance to China, and foreigners who come to China to be with their families.

Unlike China's household registration system, which sets strict limits on the migration of farmers to cities and towns and from one place to another, the Green Card system has no limitations for non-Chinese to seek work and housing in China, said Cui Zhikun, director of the MPS' Bureau of Exit and Entry Administration.

Visas will not be necessary for entering and leaving the country as long as they hold valid passports and Alien Permanent Residence Permits, said Luo Tianguang, director of the Consul Division of the Ministry of Foreign Affairs.

"What's more, foreigners with permanent residence permits in China can enjoy relevant rights as well under their obligations according to Chinese law," Luo said.

Alien Permanent Residence Permits are valid for five or 10 years. Certificates with a five-year validity are granted to minors, while adults can apply for 10-year certificates.

Hao said 22 million foreigners were reported to enter and exit China's borders last year and 230,000 foreigners were long-term visa holders.

In the first six months, the MPS' latest statistics indicated that 14.79 million foreigners came and left China.

"China is not a migration-targeted country and the new regulations are aimed at attracting high-level foreign personnel," Hao said. "There will not be many foreigners applying for the Green Cards."

He said there must be some foreigners working in China's large cities such as Beijing, Shanghai and Guangzhou who would be eligible to apply for permanent residence permits.

Since the implementation of laws on entry and exit controls in 1985, and the law's detailed enforcement regulations in 1994, China has already approved permanent residence for more than 3,000 foreigners, said Hao.

Football fans violence investigated

Hao answered questions about dealing with the "extreme behaviour" of football fans after the final of the Asian Cup final earlier this month, which China lost to Japan in Beijing.

"Extreme behaviour on and off the soccer pitch has taken place in many countries, including China, in recent years, which we are not willing to see but takes place anyway," said Hao.

"Mobbing and vandalism are strictly prohibited by Chinese law, and police will mete out penalties to those responsible in accordance with the law," he said.

After the game, there were riots with disappointed Chinese fans crying anti-Japanese slogans, burning Japanese flags and exchanging kicks and punches with police outside the stadium, reports said. At least three Chinese men were detained.




Today's Top News
Top China News

Table tennis pair win China's 15th gold




Rules protect rights of detainees




Tipping tour guides sparks debate




China faces elderly dilemma




US campaign price tag: US$1 billion plus




Death toll rises to 39 in Zhejiang mudflow