Table tennis pair win China's 15th gold
(Xinhua)
Updated: 2004-08-20 22:43
Despite the unfavorable draw rule changes which ruled out any all-Chinese final in the doubles events, China clinched its first gold in the table tennis tournament of the 2004 Athens Olympic Games in women's doubles Friday.
Wang Nan and Zhang Yining, ranked world No. 2 and No .1 in singles respectively, outclassed their South Korean rivals Lee Eun Sil/Seok Eun Mi 4-0 in the women's doubles final Friday afternoon to kick start a widely-expected gold rush in the tournament for the all-mighty Chinese paddlers, who had a clean sweep of all table tennis golds in Sydney 2000 and Atlanta 1996.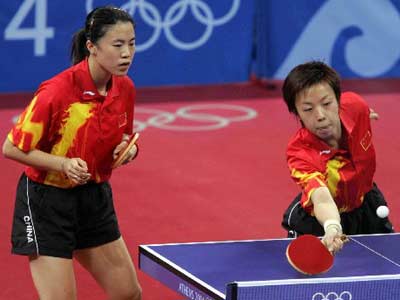 Wang Nan (L) and Zhang Yining in the match. [Xinhua]
"I feel very glad to have won a doubles final against a foreign pair, which was a quite different match from the one I played in Sydney," said Wang, Sydney Olympics champion in both women's singles and doubles.
Earlier this year, the International Table Tennis Federation ( ITTF) decided to introduce new draw rules in the draw of the Olympic tournament, according to which two pairs of players from the same association must be drawn to the same half in the doubles events.
Many believed that the rule changes had aimed at curbing the unchallenged dominance in the doubles events by the Chinese, who had repeatedly turned the doubles finals at the Olympic Games into their domestic affairs.
However, with Wang and Zhang's convincing victory Friday, the Chinese have proved that they are powerful enough to stand any rule changes, even if they don't look so fair.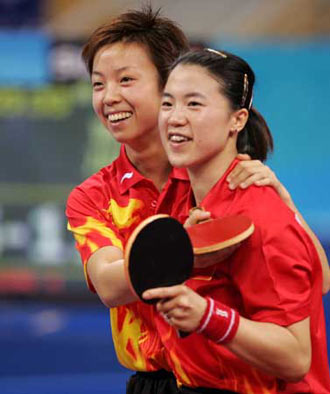 Zhang Yining and Wang Nan celebrate their gold medal win in the women's table tennis doubles finals at the Athens 2004 Olympic Games August 20, 2004. [sina.com]


In the men's doubles semifinals played earlier Friday, China's Ma Lin/Chen Qi also overcame the strong resistance from Danish Michael Maze/Finn Tugwell 4-2 and entered the event's final scheduled for Saturday.

"We made a lot of preparations for today's match, but the Chinese were just too strong and had prepared even better. They struck on our weak points effectively in today's match, and they had some techniques we had never expected during our preparations, " said Seok Eun Mi at the press conference.

The South Korean pair had beaten Wang and Zhang,then both paired up with different partners, at the 2002 Busan Asian Games and won the women's doubles title.

"I think at that time the Chinese had underestimated us and therefore the match wasn't very difficult for us. But this time they have prepared very well and also played very well, and they deserve to win," said Seok.

"I just hope that our match today will help promote the development of table tennis in South Korea and encourage our players to catch up with China some day," she added.

The South Koreans, who had pinned their hope for the first Olympic table tennis gold in 16 years on the doubles events, appeared too eager to win and made many unforced errors in both their defense and attack.

When Wang and Zhang were 10-6 ahead in the last game, Chinese team head coach Cai Zhenhua called a timeout, but the Chinese supporters in the Galatsi Olympic Hall, the tournament venue, already started to celebrate by singing and clapping their hands.

This was the third Olympic gold for Wang, and probably the last as some Chinese media had reported that this tournament would be the swan song in her professional career.

Wang missed the opportunity to emulate in Athens her predecessor Deng Yaping, who had bagged all four golds in women's events at the 1992 Barcelona and 1996 Atlanta Games, as she crashed out of the singles semifinals Thursday evening with a quite surprising 4-1 defeat to Li Jiawei of Singapore.

"After my loss in the singles yesterday, I felt much regret. But thanks to the help of my coach and teammates, I calmed down and told myself that I must play well in today's doubles final," said Wang after the match.

"She is a great player and also a mentally-strong person," said her doubles partner and long-time arch-rival in singles Zhang. " She wasn't affected by yesterday's loss at all and this also motivated me to play a very good match today."

"Should my doubles victory today help boost the morale of the whole team and bring us more wins in the following matches, I think it will compensate for my singles loss," Wang added. She didn't confirm the news about her plan to retire at the press conference, only saying that "I have to go home first and I will make the decision later".

For the 22-year-old Zhang, winning the doubles was quite likely just the beginning of a gold harvest in Athens. Already in the singles last four, she will meet South Korean chopper Kim Kyung Ah in the semifinals.

"It's gonna be a very tough match and I'm prepared to fight till the 7th game," said Zhang at the press conference. Kim was the first defensive player who had ever entered the last four of women's singles in the Olympic tournaments.

On the badminton court, the mood was more upbeat as the Chinese ensured they would win another gold medal with top seeds Zhang Jiewen and Yang Wei and second seeds Huang Sui and Gao Ling winning their semi-finals.

The gold will be China's third in the badminton, after world champion Zhang Ning won the women's singles and Zhang Jun and Gao Ling were victorious in the mixed doubles on Thursday.

Chinese Olympic officials said before the start of the Olympics China's goal for Athens was to win at least 20 golds and maintain the nation's position as the third most powerful sporting country behind the United States and Russia.

As the athletics competition began, China's main medal hope on the track, 110m hurdler Liu Xiang said the heat of Athens would give him an advantage against his rivals.

"I'm not going to have a problem with the heat. It is like this at home. I like it hot like this," Liu, who is regarded as American great and 1996 Olympic champion Allen Johnson's greatest rival, said.

"But this is my first Olympics, its a big event and it's a big opportunity for me. What I have to do is make sure every round goes well and then just try my best in Athens.




Today's Top News
Top Sports News

Table tennis pair win China's 15th gold




Rules protect rights of detainees




Tipping tour guides sparks debate




China faces elderly dilemma




China issues `Green Card' to foreigners




US campaign price tag: US$1 billion plus