Massacre proof sent to Nanjing
(China Dailly)
Updated: 2004-08-20 01:50
New evidence of the Japanese atrocities committed in the Nanjing Massacre have been uncovered in diaries written by a military doctor in 1937 and 1938.

The diaries and some letters were sent anonymously to Zhu Chengshan, head of the Nanjing Massacre museum, who opened the package on Wednesday afternoon.

The diaries were written by Jiang Gonggu, a Chinese military doctor from December 23, 1937 till February 27, 1938. Jiang was a member of the Chinese army in Nanjing.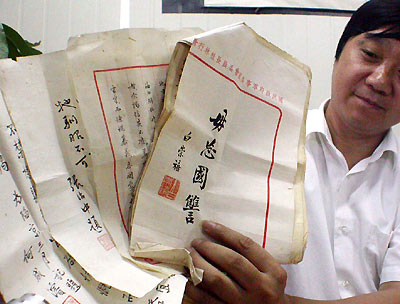 A museum official in Nanjing Thursday shows diaries written by a military doctor and letters written by senior officials of the then-ruling Kuomintang on the Japanese atrocities. They were all sent to the museum by an anonymous donor on Wednesday. [newsphoto]


When the city was invaded by Japanese soldiers, he hid in the safety zone and eventually fled in February 1938.

The diaries record the atrocities he witnessed.

The package also contained letters written by 11 senior officials of the Kuomintang government, including Zhang Zhizhong, Chen Bulei, Bai Chongxi and Jiang Dingwen. The letters were written after reading the diaries.

"It is a record of the blood, it is the reality, and it shows the Japanese invaders' cruelty and violence..." says one of Zhang's letters.

Zhang Yiping, secretary of the Collectors' Association of East China's Jiangsu Province, has seen the letters and is treating them as genuine. "It is the first time the museum has had such materials of the massacre written by Kuomintang officials themselves," said Zhu.

The donor of the letters and diaries remains a mystery. Zhu said the meseum would do its best find out who it was that sent them.
Today's Top News
Top China News

China gets 14 golds at Athens




Crop trade deficit recorded for 1st time




FDI grows by a large margin in July




Beijing: Chen undermines Sino-US relations




Hu, Bozize agree on efforts for better ties




Senior officials face stiff graft checks