Spotlights on college admission abuse
By Xing Zhigang (China Daily)
Updated: 2004-08-19 00:45
China's national university entrance examination system has long been hailed as an effective mechanism to ensure equal education opportunities for all students.
But a recent admissions scandal has exposed many flaws as well as laying bare its vulnerability to power abuse and corruption.
The widely-publicized scandal has also triggered severe doubts about the government's call for higher education institutions to become business-like and profit oriented .
China Central Television (CCTV) reported on Friday three staff members of the Beijing University of Aeronautics and Astronautics (Beihang) had extorted at least 550,000 yuan (US$66,505) from seven students in South China's Guangxi Zhuang Autonomous Region.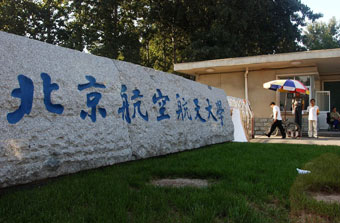 The Beijing University of Aeronautics and Astronautics has been reported to extort at least 550,000 yuan (US$66,505) from seven students in South China's Guangxi Zhuang Autonomous Region. [newsphoto/file]



Pang Hongbing, Gao Feng and Liu Fangping allegedly threatened to deprive these students of their admission to the university --even though they had earlier enrolled. In a recorded phone conversation by CCTV reporters, Pang said other students were waiting to fill their places.

Pang and Gao are respectively general manager and deputy manager of Tianhong Electronic Science and Technology Co. Ltd, a company affiliated with the university. Liu is an employee of the company.

The case was reported to local police when they tried to extort 100,000 yuan (US$12,000) from the parents of a female student named Li, of Nanning, the capital city of the autonomous region.

Pang and Gao have been released after questioning by police and Liu remains in custody in Nanning.

The exposure on highly-popular Focus TV series put the Beijing University of Aeronautics and Astronautics under the spotlight.

While pledging a full investigation, the university president Li Wei has made a public apology, saying he was deeply ashamed.

He said the exhorted money had been refunded to the students.

Meanwhile, the university officials in charge of admissions have been suspended, with further investigation pending.

The president admitted the scandal has damaged the reputation of the country's university admission procedures.

"I hope the scandal in Guangxi is an isolated incident in nationwide university student admissions," Li earlier told the media.

Unfortunately, it is not.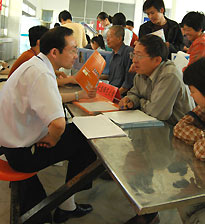 Students and their parents attend consultation sessions to learn more about universities prior to their applications, in Nanjing. [newsphoto/file]

The People's Daily reported on August 17 that the Xi'an Conservatory of Music in Northwest China's Shaanxi Province had asked for 30,000 yuan (US$3,620) from each enrolled student.

The students who refused to pay were also threatened with the withdrawal of their admission notices, according to the newspaper.

Some critics claim these incidents expose the tip of the iceberg of malpractice and corruption affecting university admission procedures.

These scandals have indicated a number of loopholes in the university admission system including lack of transparency and supervision, lax management and poor quality of admission personnel.

Insiders say there has long existed many irregular practices in national university admission procedure.

Some admission personnel have profited from selling enrolment quotas originally reserved for students of minority ethnic groups and those with specialities, to disqualified recruits.

Media reports said last year the top two students admitted by the Department of Arts in Hainan University in 2002 even knew little or nothing about drawing.

Admission personnel of the university were suspected of taking bribery from the two students, media reports said.

Hidden corruption

An Yang, who once took part in national university admission work, told the China Youth Daily that the system has largely been suffering from the so-called "hidden corruption."

"Accepting a bribe has been a very common phenomenon in university admission work, but the bribe might not always involve cash, ," An said in a commentary.

"It has been an open secret in all universities that admission job is a lucrative post."

He revealed that some admission workers have their dining and travelling expenses paid by the parents of enrolled students and sometimes openly demand expensive gifts from them.

Corruption has rapidly evolved into open extortion of money,least because education authorities have failed to pay due attention to standards in admission work, An said.

The corruption was rooted in too much power given to the admission personnel, he added.

"The absence of effective supervision and restriction over their power seemingly breed corruption," said An.

Although Beihang described the scandal as an individual act by the three faculty members, critics say that does not mean the university administration office can shirk its own responsibility for the misconduct.

Media commentator Li Hui said management loopholes in the university's admission work had given the trio the chance to extort students.

The Ministry of Education requires all universities to directly send admission notices to enrolled students through the post.

But the admission office at Beihang agreed to let Pang deliver the admission notices to six students in Guangxi by hand, giving him amble opportunity to blackmail them.

Moreover, the country's top education authorities have been making great efforts to eliminate irregular and corrupt practices in university admissions.

On learning of the Beihang scandal, the Ministry of Education issued an urgent notice forbidding any extra charge from enrolled students during the process of admission.

Any unit in violation of the order will be severely punished, the notice warned.

As a major effort to stem the "black door" practice of securing advantages through influence, the ministry began to phase out online admission as early as the late 1990s.

Meanwhile, it also ordered the publication of the details of those outstanding students who are recommended to go to university without taking the national university entrance examination.

In spite of these preventive measures, Jiang Xin, another media commentator, went further claiming more work has to be done in this field.

The main reason for the scandal still lies in the lack of openness and transparency, he said.

With little information open to the public, the national university entrance examination system has been shrouded in mystery.

That's because most people lack legal channels to learn more about the admission procedure and can do nothing but wait for notification from admission officers.

"Given the lack of information, some procedures of the national university admission work have become an `information black hole' in which some information that should be made available to the public has been blacked out," Jiang said.

The media commentator suggested more information about examination scores, admission procedure and admission personnel should be subject to public supervision.

"Internal supervision within the education system itself is too weak to ensure equity in university admission," Jiang noted.

Potential harm

Despite its shortcomings, the national university entrance examination system is considered the last line of defence for education equality in China.

"But the line of defence is sadly being eaten into by corruption in admission work," said an editorial of the China Youth Daily.

The article warned that admission corruption will undoubtedly undermine education equality, which is the basis for social equality.

Those born in rich and powerful families will unjustly enjoy more opportunities than their counterparts from poor families unless admission corruption can be effectively checked, it said.

"What's more worrying is admission corruption is presenting the dark side of society to high school graduates, and this will have a negative impact on their concept of a fair and just society as well affecting their early life," the editorial said.

"Rooting out corruption is vital to the education system and even to the whole of society."

Professor Lao Kaisheng, of Beijing Normal University, blamed admission corruption on the marketisation of the education sector.

"Scores used to be the only decisive factor in university admission work, which was completely free from the interruption of market factors," said Professor Lao, director of the Institute of Education Policy and Legal Studies.

"But now some marketization practices have been eating away into the admission work."

He added that university admission should be based on capability and the involvement of money will hurt its equity and in turn social justice.

The government has been bent on establishing the education market but its efforts to better regulate it has been left wanting , according to Professor Lao.

He suggested the practice of selling education opportunities for money should be eradicated through sound regulation and management.

"We can prevent such admission corruption if we can actively respond to the fast changes in the education sector and set up an effective mechanism," he said.




Today's Top News
Top China News

The 16th typhoon to hit East China




European drug maker gives up patent




China further opens its publishing sector




HK witnesses strong economic growth




Spotlights on college admission abuse




China calls for calm to continue six-party talks