Flashing back to Woodstock
(China Daily)
Updated: 2004-08-18 08:59
Thirty-five years ago, as fighting raged in Vietnam, a group of hippies and 400,000 of their soul mates converged on a dairy farm in New York state for three days of frolicking in the spirit of peace, love and music.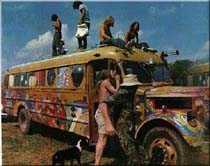 A bus full of concert-goers makes its way to the field near Woodstock. [AP]

Organizers called it "Woodstock," after the Catskill Mountains town where they'd hoped to have the concert. (The show eventually went on in Bethel, New York, about 50 miles away.) It was 1969, the last year of the tumultuous '60s. Few words conjure up so well the free spirit of that decade's counter-culture movement.

Rain, mud, music, drugs, rock 'n' roll, teepees, pot, dancing, smoke, sleeping bags, meditation, tents, dogs, brown acid, granola and free love were the hallmarks of a music festival that was a defining moment of one generation's rebellion against popular society. Since then, that weekend in August has become a legend in the mythology of the era.

Tickets had been sold in advance, but as people flocked by the thousands to Woodstock from all directions, it was clear there was no possible way to charge at the door.

It was more than a concert, said Lisa Law, a photographer and author of the book "Flashing on the Sixties" who attended Woodstock Music and Art Fair, August 15-17, 1969.

"It was just beautiful. There was mud every place. And people were making their own music, even in the campgrounds. Everybody else helped everybody else."

Theodore Roszak, a retired history professor from California State University Hayward and author of "The Making of a Counter Culture: Reflections on the Technocratic Society and Its Youthful Opposition," said the ripple effect from Woodstock is still felt.

"It was the biggest large-scale critique of industrial culture since the days of the Romantics in the 18th century," he said.

"All the deepest values that society clung to and valued, and all of these were being undermined. It was a good example of relatively how much impact a dramatic image can have."

A logistical challenge

Whether or not the organizers understood their event was history in the making, few could have predicted what would happen once the throngs began showing up at Max Yasgur's 600-acre farm.

Lisa Law recalls trying to buy supplies from the nearest town as she prepared to cook free food for crowds. "What was a 20-minute trip by car, became a nine-hour car ride," she said.

People arrived so quickly -- before fences and turnstiles could be installed around the grounds -- that concert organizers had to make decisions fast or things would get ugly, Law said. After a quick powwow, they chose not to set up fences and make it a free concert.

"The whole idea of making it free at that point is what made Woodstock successful," she said.

Organizers expected 10,000 to 20,000 spectators to see such stars as the Grateful Dead, Jimi Hendrix, Jefferson Airplane, Janis Joplin, Santana, Country Joe and the Fish and Crosby, Stills, Nash and Young perform at the outdoor show.

But by the time the concert began, nearly half-a-million people had gathered on the rolling hills, and soon medical and food supplies became scarce.

Law said she asked the organizers for $3,000 so she could buy rolled oats, bulgar wheat, honey, soy sauce, dried apricots, wheat germ and almonds to make muesli. She estimates her team of volunteers fed around 130,000 people.

Promoters also set up hospital tents for medical treatment and quiet areas where concertgoers could "chill out" after bad acid trips. Police were easy on pot smokers, but made about 80 arrests involving LSD, amphetamines and heroin. Three people died. Rumors circulated of two births, although witnesses confirmed only one, according to The New York Times.

Controversial legacy

The festival embodied the hippie code of "make love, not war" -- crime was minimal but free love and nudity weren't.

The band Quill performs at Woodstock, one of dozens of performers at the three-day concert.

To some, however, Woodstock does not conjure up fond memories.

"I do not think much of Woodstock," said Edward Grealish, 66, a retired Marine Corps infantryman from Georgia. "What I've seen on TV horrifies me, the drug abuse and all that."

Grealish, who served in Vietnam on and off from 1965 to 1970, remembered reading about Woodstock while he was overseas. "I didn't like the hippies. I still don't like hippies," he said.

He criticizes the free love and anti-war sentiments promoted at the festival and their influences on American culture since then. "They glorify the use of drugs on TV and in movies. They glorify Woodstock and lump all Vietnam veterans into drug-crazed, alcoholic, shiftless people."

Law disagrees and believes the messages of Woodstock have had a positive effect. "People want to get together during a time of war. We all know now that Vietnam was wrong. We always knew. Everyone [else] said Vietnam was right. And we knew it was wrong."

Law thinks today's political climate resembles that of the 1960s.

"We, for the first time since Woodstock, are coming together the same way against the war in Iraq as a tribe of people," said Law, who spends her time talking to young voters and campaigning for Democratic presidential nominee Sen. John Kerry.

Grealish said he feels the same way toward people who don't support the war in Iraq as he did toward people who protested the Vietnam War.

"It was an extreme lack of discipline displayed by parents, and it's still going on," he said.

Many young people since that time have looked at the original Woodstock as a symbol of self-expression. But attempts to recreate versions with that same spirit didn't really work out.

Woodstock '94 and Woodstock '99 were criticized for replacing the free and easy atmosphere of the 1969 prototype with corporate greed and high security.

"Certainly they didn't have the same historical impact," Roszak said. "The first Woodstock had a landmark significance and I don't think the others could have that. Different people at a different time."




| | |
| --- | --- |
| | |
| Cruise to star in 'War of the Worlds' | |

| | |
| --- | --- |
| | |
| Nicole Kidman helped Halle Berry strip | |

| | |
| --- | --- |
| | |
| Tidbits of Beijing life | |
Today's Top News
Top Life News

Natural disaster affects almost 13 million




Official gets death for stealing relics




China: US sending "wrong signal" to terrorists




China cracks down on "phone sex" services




Japanese snakehead deported from China




Beijing highway boss to be arrested for bribe