New ideas needed to revive TCM
(China Daily)
Updated: 2004-08-18 08:40
Like other modern sciences, Western medicine took root in China in the late Qing Dynasty (1644-1911) more than 150 years ago.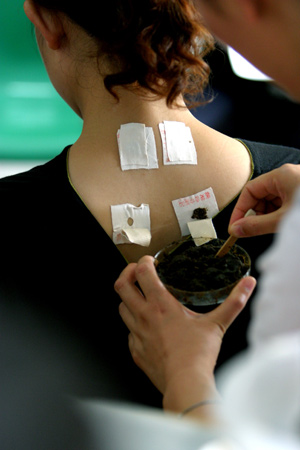 A doctor applies ointment to the back of a patient at a TCM hospital in Xiangfan, Hubei Province. [China Daily]

Despite the long history of traditional Chinese medicine (TCM),TCM practitioners and learners are ready to admit they are falling somewhat behind Western medicine both in popularity and confidence throughout China.

What to do about it now is a raging debate among doctors of TCM, who are struggling for ideas on how to make their field more popular and to modernize traditional medicine practices.

During discussions, most senior TCM doctors point out that current common approaches to modernizing traditional Chinese medicine are misdirected.

And the current curriculum offered at traditional medical academies fails to give students the skills and confidence needed for their future practices.

Without addressing the two major issues, there will be problems with the further development of traditional Chinese medicine.

Major differences

A lot of people hold the opinion that TCM can only re-validate itself by following Western scientific models such as evidence-based medicine.

As a well-known TCM doctor and also a senior research fellow of the Chinese Academy of Traditional Chinese Medicine, Lu Guangxin, 78, strongly opposes such an approach in furthering TCM.

Applying Western medicine's model to further the study and teaching of TCM will ultimately undermine its philosophical and physiological principles and the sacred medical practice, he said.

Lu and his generation of TCM doctors believe that the fundamental principle of TCM is to mobilize the instinctive anti-disease ability of the whole body.

TCM uses an induction and deduction method. It takes the holistic approach and focuses on functional analysis of the entire body.

"We do not even advocate killing viruses with drugs, but trying to help to motivate the self-healing power of the body," said Lu.

They may also have the virus remain alive in the body after the patients receive treatment with TCM methods.

"However, as long as the patient has regained normal body functions and is able to live a healthy life, we believe that he is cured," Lu said.

According to Lu, in its long history, generations of TCM doctors have accumulated rich experiences and prescriptions in the aspect of motivating the self-healing power.

By exposing skin to sunshine, TCM doctors can ease the symptoms of illnesses, such as inflammation in the lungs.

"When the patients come to the hospital, the doctors should not just check the patients' diseases, but should focus on finding the positive elements in the body that will contribute to their self-healing.

"The doctors must bear in mind that it is the patients themselves who can often cure their disease," Lu said.

"However, all these cannot be explained by the modern anatomy," Lu said.

In contrast, Western medicine takes the advantage of analysis and synthesis, and experimental methods to describe clear cause and effect relationship.

Thus, the concept of developing disease-attacking techniques and drugs dominate Western medicine.

Anatomy makes clear the pathology of disease, bacteriology and virology identify the cause of illness, and finally, the assessment of the curative effects of drugs is based on analysis of their chemical ingredients.

With the rapid advancement in technologies, the diagnostic techniques in Western medicine develop rapidly.

As a result, most Chinese look to Western medicine for treatment of their acute illnesses.

However, the steps of finding new drugs and improving their curative effects lag far behind diagnostic techniques.

In the SARS (severe acute respiratory syndrome) outbreak of last year, a complete genome map of the virus had been made in a short time with the collaboration of scientists. The cause of the disease and its pathology were also made clear quickly.

So far there have been no effective drugs developed.

The whole practice of Western medicine is disease oriented. When a patient goes to the hospital, doctors of Western medicine will try to diagnose the disease in their body by every possible means. Then drugs will be prescribed to eliminate the pathogens. If there are no effective drugs available, then new drugs will be developed.

Despite its effectiveness in relieving the most acute of symptoms, killing viruses and removing the diseased body parts, Western medicine has not proven to be a panacea.

It is often helpless in the treatment of chronic illnesses and fatal diseases, such as some cancers.

The variation of pathogens are fast and more and more viruses are showing drug resistance. Accordingly, many drugs have to be eliminated from medical use and the medical costs for common people have been soaring owing to the creation of new drugs.

Today, some microbiologists advocate that viruses and human beings, in a way, can coexist.

"The theory has something in common with the essence of TCM," Lu said.

Dilemmas in TCM education

Despite the lessons learned by TCM practitioners over centuries, many TCM researchers have continued to adopt the Western medical approach in their study of TCM, believing it to be the only way to modernize the practice.

They take the cause of disease and pathology as their research direction, while casting away TCM's essence of analyzing the whole body's defence system, Lu said.

Present modern TCM education systems have not helped instill full confidence among many of the students.

In a letter addressed to Lu, Lin Xiaohui expressed his worries and confusion during his studies at Beijing University of Chinese Medicine.

When he entered the gate of the top Chinese TCM university, he cherished a passion and dream for his future.

However, he was finding that there was little traditional cultural element in the TCM education, as he was taught a lot about medical techniques.

In the education plan for students of the five-year TCM major, basic biology courses and Western medicine courses have taken up a large proportion.

The class hours set for the study of TCM theories and clinical medicine account for less than 50 per cent. What's more, in the process of the TCM clinical medicine education, a lot of Western medicine knowledge is also being taught.

Worse, most of TCM teachers, often fresh graduates of TCM universities, lack clinical experience. The clinicians do not teach because teaching pays far less than actual medical practice.

Under a Western medicine education model, TCM masters and doctors have to spend a lot of time together working on laboratory mice.

So the doctoral students of Zhou Ping'an, a professor of Beijing University of Chinese Medicine and also a veteran TCM doctor, have to go between clinical practice and laboratory experiments.

"It is funny that commanding the skills of treating patients will not make them graduate. They must also get the permission of the mice," Zhou said, wryly.

Students also have to immerse themselves in text books.

"In the present education system, the students graduating from TCM universities and colleges are greatly short of the clinical experience," said Zhou.

"As a result, the more they have learnt, the less confident they feel with TCM," said Zhou.

Going back to the late 1950s and early 1960s, the teachers of Zhou were all well-known TCM clinical experts.

They would often follow their teachers into the outpatient departments and observed their teachers examine patients, make diagnosis and write their prescriptions.

Upon graduation, Lu and Zhou said that they could treat certain common types of diseases with great assurance and the few prescriptions they wrote out would relieve the symptoms.

Lu said he did not object to the Western medicine curriculum for the TCM students, but he contended that the university must ensure its students to receive a full education in TCM.

In his letter, Lin said he was feeling quite depressed and losing interest with what he was learning.

TCM students like him are not small in number and so far Lu has received many such letters.

Owing to the lack of clinical experiences, even some of the TCM doctors are not confident with TCM. Some have difficulties finding a job.

Lu believes that modern TCM education should take into consideration how to better serve the medical needs of 1.3 billion Chinese people.

"The students should spend more time learning the simple but useful traditional Chinese medicinal analytical skills and knowledge and get some hands-on experiences.

"It will be useless for a TCM student to know the diseases but not know how to treat them with their TCM knowledge and experience," said Lu.

Confidence vital

Lu said that most of the patients come to Zhou and Lu as a last resort. Many of them have failed to be cured by the Western medicine doctors.

"The fact is that I could treat those patients with my TCM method," Lu said. "That is why we old TCM doctors consider it valuable and hold firm belief in it."

Compared with those old masters, the young and middle-aged TCM doctors, in Zhou's eyes, lack confidence about TCM and always try to "walk with the Western medicine as a crutch."

Therefore, TCM has already become a complementary tool in their hands.

With more and more elderly experienced TCM doctors passing away, a lot of senior TCM doctors now worry that a talent crisis seems unavoidable.

To train more clinical TCM talent, the State Administration of TCM selected 200 TCM doctors around the country this year, in the hope that they could hand down the expertise of the old generation of TCM experts.

As one of the six veteran TCM doctors to deliver the lectures, Lu stresses the importance of observing the fundamental principles of TCM.

Once, a patient with stomach cancer came to Lu and Lu prescribed a concoction of herbal medicine. Later the patient's cancer cells disappeared.

When his colleagues asked him if his prescription had contained anti-cancer drugs, his answer was no.

Lu viewed medicine as a wisdom of taking care of life.

"The doctors must value the life and motivate the patient's will and emotions. The faith of the patient in his doctor will take on a magical curing effect," Lu said.





| | |
| --- | --- |
| | |
| Nicole Kidman helped Halle Berry strip | |

| | |
| --- | --- |
| | |
| Tidbits of Beijing life | |

| | |
| --- | --- |
| | |
| Actor Yu Yi speaks for "Confidence" | |
Today's Top News
Top Life News

Natural disaster affects almost 13 million




Official gets death for stealing relics




China: US sending "wrong signal" to terrorists




China cracks down on "phone sex" services




Japanese snakehead deported from China




Beijing highway boss to be arrested for bribe