Natural disaster affects almost 13 million
By Shao Xiaoyi (China Daily)
Updated: 2004-08-18 00:44
The death toll from Typhoon Rananim climbed to 164 Tuesday, with 24 people still missing, according to officials in East China's Zhejiang Province.
A rescue operation searching for 21 people buried by wreckage caused by the mudslide on Friday in Leqing, Zhejiang Province was underway, said Feng Zhili, vice-mayor of Wenzhou, one of worst-hit cities in Zhejiang Province.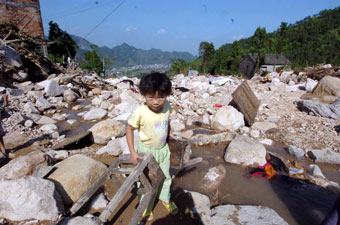 A child picks up debris left by a disastrous mudslide on August 13 after Typhoon Rananim hit Leqing in East China's Zhejiang Province. The death toll from the mudslide rose to 27 Tuesday, with another 20 people missing. [newsphoto]


"The tragedy happened after the terrible Typhoon has really worsened the great damage," said Feng, adding that telephone lines to Leqing were still down four days after the city was hit by an avalanche of mud and rock.

The latest figures from the provincial flood control and drought relief headquarters said 12.99 million people have been affected and the mudslide had caused 18.128 billion yuan (US$2.18 billion) worth of damage.

Provincial officials said 109 people had been killed when their houses collapsed, with a further 28 losing their lives in the subsequent landslides, flash floods and rockfalls, with nine being killed by strong winds.

About 20 migrant workers are on the casualty list, with 144 victims being local people.

Typhoon Rananim, which swept through the whole Zhejiang Province on Thursday night, was the biggest typhoon to hit the country since 1956, according to the China Meteorological Administration.

It struck Wenling, a coastal city in Zhejiang Province, at 8 pm last Thursday night.

It then ripped through south of Taizhou and Wenzhou, the west of Jinhua and Quzhou and finally hurtled into Jiangxi Province at 11 am on August 13, according to the local meteorological observatory.

The typhoon remained in the province for 15 hours with a maximum force of over 12.

"Despite the damage, the great efforts we have put to fight typhoon such as evacuating people beforehand, have indeed cut losses to minimum," said Yu Zhongda, deputy-secretary of the provincial Party committee.

According to incomplete statistics provided by the provincial authorities, about 467,900 residents had been evacuated to safer areas and 9,900 ships had been pulled into harbours.

A 1,340-kilometre-long standard dyke, thousands of reservoirs, and water locks have greatly reduced the losses, said Yu.

Reconstruction work has begun across the whole province and the government is determined to help homeless people move into new houses before the winter, Yu added.

"We will pay special attention to the quality of buildings to better withstand typhoons while we building new houses," Yu says.

According to a survey conducted by the provincial construction bureau, 85 per cent of the destroyed homes were built before or during the 1980s while 10 per cent were built in the 1990s.

Houses built in the 1990s were thought to be safe, Yu said. The majority of people evacuated were living in houses built during or before the 1980s.

So far, no diseases have emerged owning to preventive measures the government has taken in typhoon-hit areas.

However, the province's struggle against the weather has yet to end.

With maximum winds with a force of 9, the 16th tropical winds this year were predicted to reach the southern parts of Zhejiang Province last night, according to the local meteorological observatory.

In another development, alarmed by the mudslide happened in Leqing, officials from Ningbo in Zhejiang Province plan to move residents from 25 villages to safe places amid the threat of disaster striking the city.




Today's Top News
Top China News

Natural disaster affects almost 13 million




Pyramid sales harm sellers, customers




Deals strengthen Sino-Mexican ties




Official gets death for stealing relics




Culture chiefs seek profit in art




China offers more aid for Darfur