US announces plan for troop realignment
(Agencies)
Updated: 2004-08-17 09:38
U.S. President Bush's plan to restructure U.S. military forces abroad includes bringing two Army divisions home from Cold War-era bases in Germany, and increasing the U.S. presence at bases in countries like Poland, Romania and Uzbekistan, Pentagon officials said Monday.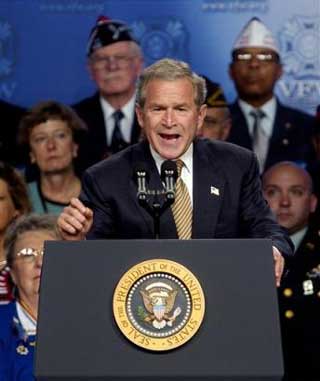 US President Bush addresses the Veterans of Foreign Wars Convention in Cincinnati, Monday, Aug. 16, 2004. Bush on Monday announced plans to shift as many as 70,000 U.S. troops who are now stationed in Western Europe and Asia in one of the largest realignments since the end of the Cold War. [AP Photo]
Bush said the realignment would bring up to 70,000 troops ¡ª and about 100,000 family members and civilian workers ¡ª back to the United States within a decade. More than 200,000 U.S. troops are now stationed overseas, a majority of them in Europe.
Pentagon officials said the realignment also would close scores of U.S. military installations in Europe to consolidate forces at larger bases. At the same time, the United States would make greater use of training and logistics bases on the soil of its new allies, said three top Pentagon officials who briefed reporters on condition of anonymity.
The moves are meant to give the military greater flexibility and a quicker reaction time to deal with the smaller military engagements that Pentagon planners foresee during the war on terrorism and beyond.
Democratic critics said Bush's plan would place more troops further from potential battlefields and wear out soldiers with more frequent training overseas, away from families.
Retired Gen. Wesley Clark, a former Democratic presidential candidate, said Bush's plan "will significantly undermine U.S. national security."
Democratic presidential nominee John Kerry was asked by reporters for his reaction to Bush's move as he finished a bike ride near his family's retreat in Ketchum, Idaho. He replied: "It's a great day for ride. Fabulous." He said later he had not seen the president's televised address.
In Germany, the two heavy armored divisions will be replaced with one brigade, a unit roughly one-third the size of a division's 15,000 or so troops. Instead of tanks, the replacement unit will be outfitted with new Stryker vehicles, the smaller, lighter and faster armored vehicles that are a key part of the Army's future strategy.
Defense Secretary Donald H. Rumsfeld and other administration officials have frequently discussed the realignment with allies. Rumsfeld, who proposed the changes before the 2001 terrorist attacks, reassured Kremlin officials over the weekend in Russia that the U.S. moves into former Soviet and Warsaw Pact territory are not a threat to Moscow.
The United States has had about 1,000 soldiers in Uzbekistan ever since the war in neighboring Afghanistan after the Sept. 11, 2001, attacks. It has no soldiers permanently based in Poland and Romania, although it conducts some training exercises with those countries.
The changes would not directly affect the 150,000 troops involved in or supporting wars in Iraq and Afghanistan. Both divisions based in Germany have seen action in Iraq, where the U.S. military presence increasingly relies on National Guard and Reserve forces.
Some German officials were dismayed at the troop shifts, which would cause multimillion-dollar holes in economies near U.S. bases.
"Base closures would hit us very hard," said spokesman Ole Kruse in the city of Wuerzburg, home of the 1st Infantry Division.
Underscoring the delicate balancing of military needs and diplomatic maneuvering, Bush administration officials offered few details of the realignment plans Monday ¡ª and did so only on condition of anonymity. They said any major shifts would not begin until at least 2006 and possibly later.
Pentagon spokesman Bryan Whitman said the three Defense Department officials and one State Department official who briefed dozens of reporters at a Pentagon news conference had to remain anonymous. The officials involved are all closely involved in the planning and negotiating involved.
The officials said the United States planned no new, major overseas bases. Poland has offered several bases for training, and U.S. officials are talking with Turkish officials about using the Incirlik air base, where allied planes patrolling the former "no-fly zone" over northern Iraq were based.
The U.S. officials refused to discuss plans for troop shifts in Asia. U.S. and South Korean officials previously said about one-third of the 37,000 American forces in South Korea will soon leave. The United States and Japan are discussing possible changes for the more than 40,000 troops in Japan, but the officials would not say whether that involved increasing or decreasing the number.
Bush announced the plans in a speech to a Veterans of Foreign Wars convention in Ohio, a state he wants to win in November. Bush cast the shift as both a way to make the military more flexible and to give troops and their families more stability.
"Our service members will have more time on the home front, and more predictability and fewer moves over a career," Bush said.
However, stepped-up use of training bases overseas could mean more short-term rotations for troops as their families remain in the United States. And some U.S. civilian and contract workers at shuttered European bases would lose their jobs, the Pentagon officials said.
Clark said increased overseas training would put further strain on a military already stretched thin by Iraq and Afghanistan.
"It will increase the burden on many military families, as troops will be separated from their families during more frequent and unaccompanied deployments to Eastern Europe," Clark said.
The Pentagon officials said Bush announced the reorganization plans now so they could fit in with the next round of U.S. military base closures, set to begin next year. Decisions made then will determine where the returning overseas units will be based.
Today's Top News
Top World News

China grabs 5 more golds, tops the medal tally




US announces plan for troop realignment




Deng steers China with exploring spirit




GM to begin making Cadillacs in China




Law change to strengthen democracy




China, DPRK diplomats meet for nuclear issue