US to remove up to 70,000 troops from Europe, Asia
(Agencies)
Updated: 2004-08-17 09:04
U.S. President Bush on Monday announced plans to bring home up to 70,000 troops from Europe and Asia within a decade in a major realignment that Democrats said was politically motivated in an election year.
"The world has changed a great deal and our posture must change with it," Bush said of his plan for one of the biggest shifts of U.S. forces at many of 5,458 military facilities worldwide since the Cold War.
Bush said his goal was to ease the burden on U.S. troops, but the plan offered no immediate relief to more than 140,000 American troops facing extended deployments in Iraq and Afghanistan.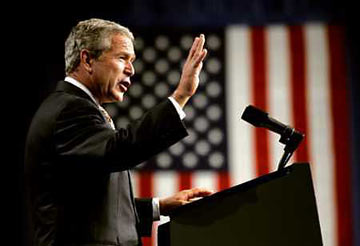 US President George W. Bush speaks at the Veterans of Foreign Wars Convention in Cincinnati, Ohio, August 16, 2004. Bush announced the withdrawal of about 70,000 troops from Europe and Asia in a major realignment of the U.S. military presence to better fight the war on terrorism. [Reuters]


Addressing the Veterans of Foreign Wars in the political battleground state of Ohio, Bush said more troops would eventually be stationed in the United States, and those remaining overseas would have more combat power to "surge quickly to deal with unexpected threats."

At the Pentagon, defense officials said a "significant portion" of the 60,000 to 70,000 troops and 100,000 family members and civilian personnel in question would come out of Europe, including about 30,000 troops in two heavy divisions in Germany.

They said moves would not begin until at least 2006 after decisions are made on new domestic base closings, and that a brigade of Army Stryker armored vehicles with 5,000 troops would be deployed to Germany as part of the U.S. shift away from ponderous forces toward mobility.

The United States now has about 115,000 troops stationed in Europe and another 97,000 in the Asia-Pacific region. A senior State Department official said troop reductions in Asia would be "not very dramatic" but gave no details.

KERRY ADVISERS CRITICIZE MOVE

Advisers to Democratic presidential rival John Kerry warned the plan could make America more vulnerable.

"This ill-conceived move and its timing seem politically motivated rather than designed to strengthen our national security," said retired Gen. Wesley Clark.

"As we face a global war on terror with al Qaeda active in more than 60 countries, now is not the time to pull back our forces," asserted Clark, a former supreme commander of all NATO forces in Europe.

White House officials said the realignment would take seven to 10 years but it could be welcome news for many military families and appeal to some veterans, an important voting bloc in the November election. Kerry is a decorated Vietnam veteran.

Bush said the realignment plan was part of a long-term commitment to "reduce the stress on our troops and our military families" and would save American taxpayers' money.

It could also mean big changes in long-standing arrangements with key allies, particularly Germany, as well as South Korea and Japan, and will result in more U.S. troops on home soil at a time when critics say deployments in Iraq and Afghanistan have stretched U.S. forces too thin.

Bush's plan does not include the 125,000 U.S. troops now in Iraq and nearly 20,000 in Afghanistan -- opening him up to further criticism from Democrats.

Kerry has said he would "significantly" cut American troop levels in Iraq within a year. Bush said Kerry's campaign pledge to do so "sends the wrong signal to the enemy."

A White House official stressed the moves were being taken in close consultation with U.S. allies such as Germany, where the United States had 75,603 troops alone at the end of March.

The United States has maintained a major presence in Europe and Asia since the end of the Second World War in 1945. During the Cold War, the European forces, especially in Germany, were meant to be a counterweight to the threat posed by the Soviet Union's Warsaw Pact forces.

But Bush said: "The threat no longer exists."

U.S. officials said the plan called for using bases in Eastern European countries of the former Soviet bloc as transit points to quickly send forces to trouble spots, but there were no plans to establish major U.S. bases in East Europe or Central Asia.




Today's Top News
Top World News

China grabs 5 more golds, tops the medal tally




Legislators to strengthen democracy




GM to begin making Cadillacs in China




Bush to announce worldwide troop retreat




China, DPRK diplomats meet for nuclear issue




Chinese vendors injured in Thailand shootout