China flips over two weightlifting golds
(Agencies)
Updated: 2004-08-17 06:35
China bounced back from two days of disappointment in a sport it often dominates by sweeping gold medals in Monday's two events and finishing 1-2 at men's 137 pounds (62kg).
A determined Shi Zhiyong, deterred neither by the pro-Greece crowd nor his own teammate, held off countryman Le Maosheng and Greece's Leonidas Sampanis to win the men's gold ! his first world championship above the junior level.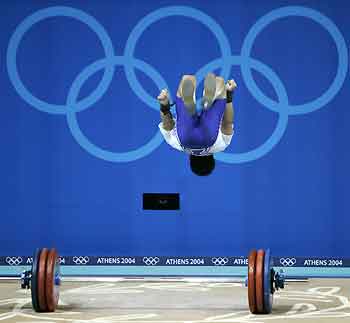 China's Shi Zhiyong does a backflip as he wins gold in the men's 62 kg event in the Athens 2004 Olympic Games August 16, 2004. [Reuters]


Shi celebrated with a backflip, perhaps because he finally gets to eat again. He shed nearly nine pounds over three meal-less days to make weight, and even then was only an ounce under.

Le settled for silver, missing a world-record attempt on his final two lifts that would have given him the gold. Sampanis, a silver medalist in the last two Olympics, tied Le's total of 689 pounds but settled for the bronze because of higher body weight.

A nearly full arena ! a rarity at the Athens Games ! roared with every successful Sampanis lift, then gave him a lengthy standing ovation as he led his young daughter across the platform following the awards ceremony.

"I really hope it will lead all the (Greek) athletes to happiness," Sampanis said.

Shi's deftly executed flip came after he raised 380 pounds in the clean and jerk, all but assuring himself of the gold. The backflip is not a move common to muscle-laden weightlifters even if, at 5-foot-3, Shi is gymnast-sized.

"Ever since I was small, I liked to play little tricks," he said. "I was very happy, so I did a somersault ! but it was not especially prepared for this show."

Le twice tried 408-pound lifts that would have broken his own clean and jerk world record by 5 1/2 pounds and given him the gold, but didn't come closer on either.

Earlier, Chen Yanqing returned to the world weightlifting stage after a prolonged absence to win the women's gold medal at 127 pounds (58 kg), her first major title since winning the 1999 world championship in Athens.

Chen's victory gave China its fifth gold medal in six events since Olympic women's weightlifting debuted in 2000. The only loss came in Saturday's 105 1/2 pound (48 kg) finals, when Turkey's Nurcan Taylan upset China's Li Zhuo with a series of world-record lifts.

China dealt with more disappointment Sunday when Wu Meijin couldn't overtake three-time champion Halil Mutlu and got silver at men's 123 pounds (56 kg).

Sampanis' performance brought two things previously missing at the Nikaia Olympic Weightlifting Hall: spectators and noise. All but one sideline section was filled after fewer than 500 fans showed up for each of the four previous events.

They had plenty to cheer, too. Sampanis, who didn't place in the spring European championships after missing all three clean-and-jerk attempts, lifted 319 1/2 pounds in the snatch ! 16 1/2 more than he did in the spring.

But he missed at 325 pounds ! Shi's opening weight, which he hit easily ! and Shi then made his second try at an Olympic-record 336 pounds. He surpassed the 330 1/2 pounds raised by gold medalist Nikolai Peshalov of Croatia in 2000.

With such a 16 1/2-pound lead heading into the clean and jerk, Shi needed to avoid only a 3-for-3 wipeout that would have left him with no total. As a result, he downsized his planned opening attempt from 375 pounds to 369 to assure him of getting the successful lift he needed for an official total.

His total lift of 716 pounds equaled Peshalov's 2000 world record set in Sydney.

Chen, meanwhile, beat the same weightlifter ! North Korea's Ri Song Hui ! as she did in the 1999 worlds in Athens, and by the same amount as then, 11 pounds. She totaled 523 1/2 pounds to Ri's 512 1/2 pounds.

Chen retired for two years before resuming the sport only nine months ago.

"I didn't think I would go for the Olympics, I wanted only to prevail step by step in my own training," she said. "I didn't start training in a group (the national team) until February, and I still wasn't thinking Olympics. It has been a very long and painful effort, and I did it with perseverance and will power."

Wandee Kameaim lifted 507 pounds for the bronze, Thailand's second weightlifting medal in as many days. Udomporn Polsak became the first female gold medalist in Thai history by winning Sunday at 117 pounds (53 kg).