Shi Zhiyong wins men's weightlifting gold
(Xinhua)
Updated: 2004-08-17 02:46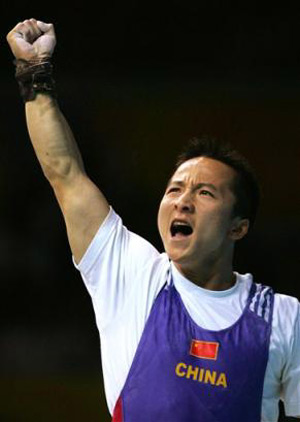 China's Shi Zhiyong pumps his fist to the crowd after setting an Olympic record in the snatch in the 137-pound (62kg) class, raising 336 pounds (152.5kg) at the Nikaia Olympic Weightlifting Hall during the Summer Olympics in Athens, Monday Aug. 16, 2004. [AP]


Chinese hercules Shi Zhiyong won the men's weightlifting 62kg gold medal with a world record weight of 325kgs at the 28th Olympic Games Monday evening.

Shi Zhiyong snatched 152.5kg and jerked 172.5kg to take the title.

His compatriot Le Maosheng, world record holder in the jerk at 182.5kg, was second at 312.5kg while Leonidas Sampanis of Greece finished third at the same weight.

Shi has brought China its 9th gold in the 28th Olympic Games so far.




Today's Top News
Top Sports News

China grabs 5 more golds, tops the medal tally




Legislators to strengthen democracy




GM to begin making Cadillacs in China




Bush to announce worldwide troop retreat




China, DPRK diplomats meet for nuclear issue




Chinese vendors injured in Thailand shootout