Najaf conflict dominates Iraq political meet
(Agencies)
Updated: 2004-08-16 16:35
Iraqi leaders met for a second day on Monday to pick an interim national assembly but fighting in Najaf dominated the event, piling pressure on Prime Minister Iyad Allawi to hold more talks with Shi'ite rebels.
Residents said the holy city was tense as Shi'ite militia loyal to radical cleric Moqtada al-Sadr roamed the streets near the Imam Ali Mosque and an ancient cemetery, from where they have attacked U.S. and Iraqi forces during the 12-day conflict.
"I can tell you that the Najaf fighting is dominating the whole conference. We hope this issue can be solved so we can proceed with our work," said Hamid al-Kifaey, one delegate.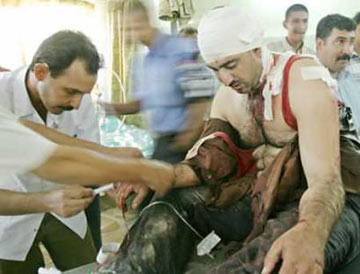 A badly wounded Iraqi man is treated at a Baghdad hospital after he was hurt in a mortar attack which struck a bus station in the center of the capital August 15, 2004. Blasts rocked Baghdad Sunday as Iraqi leaders met to pick an assembly to oversee their interim government, highlighting the problems the country faces on its stuttering road to democracy. [Reuters]


Insurgents fired mortars at the meeting just hours after it opened on Sunday, killing at least two people on the edge of the fortified compound where the three-day gathering is being held.

The brazen attack starkly illustrated Iraq's precarious security as politicians and religious leaders plot the country's road to democracy ahead of landmark elections in January.

The meeting will choose a 100-member assembly, or national council, to oversee Allawi's interim government until elections are held in January.

Several blasts echoed across central Baghdad on Monday, but none appeared to come from the Green Zone compound. However, warning sirens sounded at one stage from the area.

Fresh fighting between U.S. forces and Sadr's Mehdi militia broke out in a Shi'ite slum in Baghdad, witnesses said. They said U.S. troops were sealing off the area, called Sadr City.

A French journalist holding a U.S. passport has been seized in the southern city of Nassiriya, Al Jazeera television reported. The television said it had "learned" the journalist was an archaeological reporter. It did not give further details.

The French and American embassies said they had no information on the report. Last week, gunmen kidnapped and then freed a British journalist in the southern city of Basra.

Militants in Iraq have waged a campaign of kidnapping aimed at driving out individuals, companies and troops supporting U.S. forces and the new Iraqi interim administration.

DIVISIVE CONFLICT

While clashes have resumed in Najaf since the collapse of peace talks on Saturday, U.S. and Iraqi forces have not launched a fresh all-out offensive.

The fighting has killed hundreds and underlined the divisions in Iraq over the U.S.-backed government. Despite his radical views, many Iraqis have backed Sadr in the conflict, incensed American forces are fighting so close to Shi'ite Islam's holiest site.

Three U.S. soldiers were killed on Sunday in Najaf province, the military said in a statement on Monday.

"Three U.S. soldiers attached to the 11th Marine Expeditionary Unit were killed as a result of enemy action in the An Najaf province Aug. 15," it said.

Thousands of protesters from southern Iraq have joined Sadr in the mosque, promising to act as human shields.

Iraq's Interior Ministry said it had issued an order for Iraqi and U.S. forces not to attack the Imam Ali Mosque. Such an assault would trigger outrage among Iraq's Shi'ite majority.

The uprising in Najaf has spread to seven other Shi'ite cities in southern and central Iraq.

Raising the stakes, Sadr has vowed to fight to the death.

Speaking at the Baghdad conference on Sunday, Allawi said the presence of 1,300 delegates at the event was a challenge to the "forces of darkness that want to tear this country apart."

The conference has been beset by boycotts from key players such as Sadr. Some Shi'ite leaders have also threatened to withdraw because of the fighting in Najaf.

Once appointed, the assembly will be able to veto legislation with a two-thirds majority, approve Iraq's 2005 budget, and appoint a new prime minister or president should either resign or die in office.

The Shi'ite uprising forced Iraq to keep a main southern oil pipeline shut on Monday, reducing export flows by almost half, a South Oil Company official said.

The Mehdi Army has threatened to attack oil infrastructure, helping drive oil prices to record highs.

Scores of hostages have been taken in Iraq since April. Some have been released but nine have been killed.




Today's Top News
Top World News

Political ice dents cross-Straits economic ties




Olympians cautioned of over-confidence




Taipei spy built network in USA




China 'regrets' Japanese shrine visit




Bush vows rapid aid to hurricane victims




Migrants face loneliness and depression