Chinese contingent warned that over-optimism could spoil the current lead in the ongoing Athens Olympic Games while hailing the country's best ever opening day performance ever.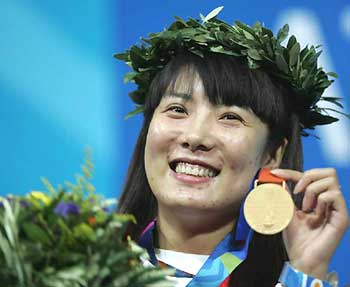 China's Li Du, celebrates on the podium after winning the gold medal in the women's 10m air rifle competition Saturday, August 14, 2004, in Athens. It was the first gold medal presented at the Summer Games. [Xinhua]
"This is the best we have ever done," He Huixian, spokeswoman of Chinese delegation and deputy chef-de-mission said Sunday.
"It is fantastic to have an opening day like that and we need to follow up with more victories.
"But this lead could disappear at any time because the Olympic Games is so unpredictable. Please do not forget this is just the beginning," she said.
China won four gold medals including the first gold of the Games out of a total of 13 on August 14, the first competition day. It takes the first spot on the medal standings with six medals plus another silver and bronze medals.
Women's judoka Xian Dongmei from Guangdong Province added the fifth gold medal on women's under 52-kilo category with an overwhelming victory over Japan's 2003 World Championships bronze medallist Yuki Yokosawa yesterday before the paper was published.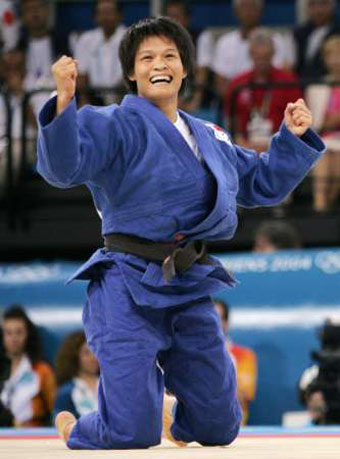 China's Xian Dongmei celebrates her gold medal win in the women's judo half-lightweight (-52kg) competition at the Athens 2004 Olympic Games, August 15, 2004. [Reuters]
On 14th, women's young sharpshooter Du Li, a 22-year-old from Shandong Province and a daughter of a policeman, won the women's air rifle with a temperament as cold as Siberia before 44-year-old Wang Yifu took his second gold medal in his sixth Olympics in the men's 10m air pistol event.
In evening competition, women's duo Guo Jingjing/Wu Minxia and men's duo Tian Liang/Yang Jinghui set the Chinese diving team back in winning style by winning women's synchronized springboard and men's synchronized platform, two events in which China lost titles during the Sydney Olympics.
Women's weightlifter Li Zhuo was the only Chinese gold favourite who suffered a setback in the first day -- the last year world championships winner and former world record holder was stunned by Turkish Nurcan Taylan in 48-kilo category and had to settle for a silver.
Judoka Gao Feng also brought home a hard-fought bronze medal in the women's under 48-kilo category.
Additionally, other Chinese squads enjoyed a first day triumph -- women's field hockey team blanked Japan 3-0, women's volleyballers edged the United States 3-1, women's basketballers defeated Asian rivals South Korea 71-54 and women's softballers outclassed host team Greece 5-0.
World runner-up Chinese women's soccer team is an exception -- it still could not find back its form with a 1-1 draw with group longshot Mexico after a humiliating 8-0 defeat to world champion Germany in an opening match.
He gave an extra praise to sharpshooters, calling them a model for other Chinese athletes.
"We have a young gun (Du) and a old gun (Wang) who can both hold on at the last moment and win the gold," she said.
But she warned that any tiny mistake could cost China a lot, citing the example of Li's defeat in weightlifting.
Li was seen as the best gold chance in the first day but had to surrender to an explosive rival who set a new world record in the event.
"We did not get enough information on our rival and our estimation was set up on old information collected last year," He said.
"We have prepared for emergence of darkhorses but did not expect a darkhorse who could be so powerful."
He's words seemed to be take effect yesterday as Chinese shooting squad spent a lacklustre day. A combination of 2004 World Cup silver medallist Ren Jie and defending Olympic champion Tao Lina could not secure even a medal in women's air pistol. China's men's basketball team led by NBA Houston Rockets star centre Yao Ming was outperformed by Spain 83-58 in its opening match.
"It is impossible to win everything as planned," He said.
Besides gold hopeful events, Chinese sports officials want national athletes to be passionate in every competition so that the experience they get from the Games can help them achieve a better result four years later in 2008 Beijing Olympic Games.
"We are looking for overall improvement," said Yuan Weimin, chef-de-mission of the delegation.