A walk by Tom Cruise on the wild side
(Agencies)
Updated: 2004-08-12 15:22
The world's most bankable star, Tom Cruise, has cast aside his good guy image to play an utterly ruthless and amoral assassin for the first time. How will audiences take to a cold-blooded Cruise?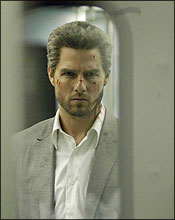 Tom Cruise in one scenario of his new blockbuster Collateral. [file photo]

It had to happen. Tom Cruise has fallen out of Hollywood's good graces and joined the ranks of the industry's unsavoury characters.

He has gone grey and grizzled.

That blinding, boyish grin, his trademark for the last two decades, is now reserved for moments of morbidly twisted humour.

He has transformed from hit maker to hitman in Collateral. It is his first turn as an all-around bad guy, a contract killer who hijacks a taxi and forces the driver (Jamie Foxx) to ferry him from hit to hit in one night of mayhem across Los Angeles.

It is a major sea change when an era's biggest leading man turns to the dark side after playing the action hero, the dashing romancer and the crusader for justice.

But the 42-year-old actor shrugs it off as just another make-believe soul that grabbed him.

"I really dug the story and dug the character. I just choose roles where I go. Okay, this is interesting, I've never played this before," he says in an interview.

"I look for characters that I feel are going to be challenging. This is definitely right out there. A very, very complex character, playing this anti-social personality.'

Though he has earned three Academy Award nominations, the actor has yet to rise to the level of peers such as Tom Hanks, Denzel Washington and Sean Penn as serious actors.

Collateral is a reminder that Cruise has more depth and willingness to go to dark places than his heroic turns would imply.

But, as he points out, it is not like everyone he has played before is a candidate for sainthood.

"If you look at it, I really play a lot of different kinds of characters," he says.

He chooses them for their creative appeal, not to fit the mould of his public image, he adds.

"I don't look at things in the third person. I'm me. I don't know how to go,and what are people going to think?"

"I don't live my life like that. I live in terms of, I like this material. Can I make it work?"

BECOMING AN ASSASSIN

In COLLATERAL, he does make it work, bolstered by a tremendous foil in Foxx's frantic cabbie, plus nice support from Jada Pinkett Smith as a prosecutor and Mark Ruffalo as a cop on his trail.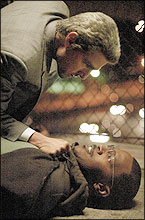 Tom Cruise in Collateral [file photo]

Cruise's killer Vincent, with salt-and-pepper hair and scruffy beard, stalks the night with absolute bravado and amorality.

He is a perversely likable villain akin to Washington's corrupt cop in Training Day or Anthony Hopkins' serial killer Hannibal Lecter in The Silence Of The Lambs.

In Cruise's words, Vincent is 'rough trade in a good suit'.

'If Tom had played this guy a couple other times, I wouldn't have been enthused about the notion of it,' says Collateral director Michael Mann (The Insider, Ali).

'But I hadn't seen him do anything like this character, and I know he could, there's no doubt about it.

'So it presented itself as a great opportunity to have Tom play it, and it's such a complex character in his incarnation of him.'

No stranger to gunplay in movies, Cruise had to learn a whole new style of handling firearms, training with live rounds on a police firing range for the first time.

Mann had him repeat the art of assembling a gun and snapping off rounds until the weapons became another appendage of his body and the action became second nature, Cruise says.

He also had to get into the head space of a professional killer, doing mental drills to case out targets and bystanders, memorise details and study locations for their layouts and exits.

'Just looking at the moral code, looking in terms of what I know about life, he's the antithesis of who I am and how I feel about people and humanity,' he says.

STAYING ON TOP

The actor places much of the credit for his longevity in Hollywood with the Church of Scientology, founded by L. Ron Hubbard.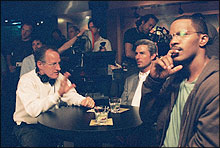 Killer instincts: (From left) Michael Mann, Tom Cruise and Jamie Foxx.

His faith in the church is so strong that he launches unbidden into a five-minute condemnation of psychiatry as a destructive pseudo science, a belief espoused by Scientology.

But he readily drops the subject to resume discussing Hollywood matters, particularly his next project, a third Mission: Impossible movie.

Director Joe Carnahan recently left the sequel, citing creative differences with the film-makers, which include Cruise and partner Paula Wagner as producers.

Cruise has not yet settled on a new director, and shooting, which was supposed to begin in early autumn, has been delayed for at least a few weeks.

'I will definitely make Mission: Impossible. No question, I am going to make it. I really love making those movies,' he says.

'It's just a matter of who and when, but I'm definitely going to make it.'

He also hopes to reteam with Mann for The Few, a film biography of Billy Fiske, an American pilot who fought with the British before the United States' entry into World War II.

It will be a return to the air for the actor, who rose to superstardom playing a daring aviator in Top Gun in 1986 and is a licensed pilot and stunt-flying enthusiast.

Also in the works is a reunion with Steven Spielberg, who directed him in 2002's sci-fi thriller Minority Report. The two plan to collaborate on an update of H.G. Wells' Martian-invasion tale, The War Of The Worlds.

LOOKING FOR LOVE

Though his marriage to Nicole Kidman broke up three years ago, he sounds as much the doting family man as ever when he mentions their two children.

He also is thinking ahead to his personal future after his three-year relationship with actress Penelope Cruz ended early this year.

'I'm looking,' he says with a hearty laugh.

'Nothing official. I really am the kind of guy who's going to get married again. But if I meet a girl, I'm not going to marry her next week.

'But I really do love relationships, but nothing, nothing official.'

WE DON'T NEED ANOTHER HERO

Before Collateral, Tom Cruise pretty much played the same role for the past two decades. Here's the proof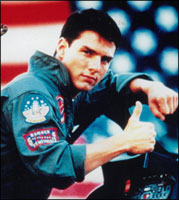 Tom Cruise in Top Gun [file photo]

1. TOP GUN (1986)

He is a cocky ace pilot who, through a major flying accident, the death of his trusty friend and the love of a beautiful, challenging flight instructor, becomes a better person and the best pilot ever.

2. DAYS OF THUNDER (1990)

He is a cocky race car driver who, through a major racing accident, the injury of his trusty friend and the love of a beautiful young doctor, becomes a better person and the best driver ever.

3. FAR AND AWAY (1992)

He is a cocky Irish boxer who, through a majorly vicious beating, the death of his father, getting bashed in the head with a rock, and the love of a beautiful, headstrong rich woman, becomes a better person and the best immigrant land owner ever.

4. JERRY MAGUIRE (1996)

He is a cocky sports agent who, through a major career setback,a major accident involving his only client and the love of a beautiful office manager and her weird kid, becomes a better person and the best sports agent ever.

5. INTERVIEW WITH THE VAMPIRE (1994)

He is a cocky evil vampire who, through the serial biting of innocent victims, a major drinking-blood-from-a-corpse accident (whoops!) and his obsession with a beautiful undead plantation owner and his weird vampire girl sidekick, becomes... well, at least he is the best vampire ever.





| | |
| --- | --- |
| | |
| Aid and shoulders | |

| | |
| --- | --- |
| | |
| Zhou Xun plays lead role in new TV series | |

| | |
| --- | --- |
| | |
| Red fish headstrong | |
Today's Top News
Top Life News

US officer indicted for beating Chinese woman




Germany crush China 8-0 in scoring spree




Proposal for Taiwan's UN entry condemned




China to launch 1st moon probe in 2 years




Hotels slammed for shunning AIDS orphans




WTO: China, India to dominate textiles