US officer indicted for beating Chinese woman
(Agencies)
Updated: 2004-08-12 10:59
A US Homeland Security officer accused of throwing a Chinese tourist against a wall and spraying her with pepper spray was indicted Wednesday by a federal grand jury.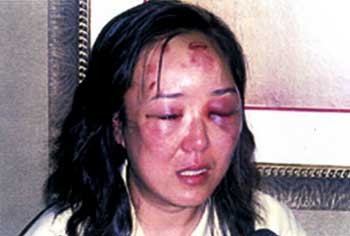 Zhao Yan, a Chinese businesswoman, is beaten by a US Homeland Security officer. [newsphoto]
Robert Rhodes, 43, is charged with criminally violating the civil rights of 37-year-old Zhao Yan by causing bodily injury to her in the July 21 altercation in Niagara Falls.
Zhao is suing the United States for US$5 million, claiming she was thrown against a wall and kneed in the head by Rhodes, leaving her cut and bruised.
Zhao was seriously injured with with one eye swollen shut and lacerations on her forehead. The businesswoman was quoted by Xinhua News Agency as calling the United States "the most barbarous" country she had been to.
Rhodes, of Niagara Falls, faces up to 10 years in prison and a US$250,000 fine, said US Attorney Michael Battle.
Authorities said Zhao was standing nearby when customs officers confiscated marijuana from a male pedestrian at the Rainbow Bridge linking Niagara Falls, N.Y., and Niagara Falls, Ontario.
Rhodes said in a statement that Zhao and two other women ran when he asked them to come into the inspection station. His lawyer, Steven Cohen, said Rhodes was following Customs and Border Protection procedure when he used pepper spray and physical force to subdue the woman.
The Xinhua News Agency reported that China's foreign minister demanded that American border officials be punished in a phone call with Secretary of State Colin Powell. Powell said he would "inquire into the issue," the agency reported.
Today's Top News
Top China News

US officer indicted for beating Chinese woman




Germany crushes China 8-0 in scoring spree




Proposal for Taiwan's UN entry condemned




China to launch 1st moon probe in 2 years




Trading surplus up for third month




Efficient coal usage urged to ease shortage