Museum remembers reform architect Deng Xiaoping
By Qin Jize (China Daily)
Updated: 2004-08-11 00:14
Had teenager Deng Xiaoping enjoyed life in a steel factory in France a little more, modern Chinese history might have taken a completely different course.
This was what one young mother told her 10-year old daughter Tuesday in a major exhibition devoted to Deng Xiaoping in commemoration of his 100th birthday, which falls on August 22.
The exhibition, "Deng Xiaoping, A Great Man of the 20th Century," is on in the National Museum of China and is open to the public until September 15 -- for free.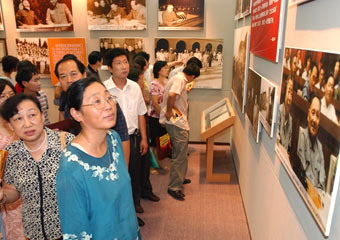 Chinese visitors take a look at photos on a exhibition devoted to Deng Xiaoping in commemoration of his 100th birthday at the National Museum of China Tuesday in Beijing. [newsphoto]

The exhibition includes 329 pictures and 145 cultural relics, most of which are being shown to the public for the first time.

Born in 1904, Deng devoted his whole life to the Chinese people. His revolutionary career lasted more than 70 years.

"We can all feel that," said Cao Feng in her 30s, "since the opening and reform, people have prospered. Our lifestyles and standards of living have improved, and we cannot forget Deng Xiaoping's policies."

But for her primary school daughter, Deng is just a name in a history book. She admitted her ignorance of this well-known chief architect of China's reform.

"That's why I had to bring her here and tell her stories which she should know by now," Cao added.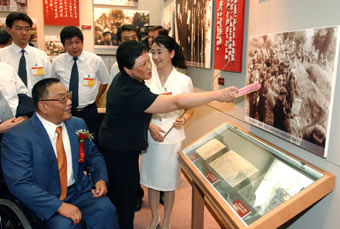 Deng Nan (second left), daughter of late Chinese leader Deng Xiaoping, identifies herself in an old photo at an exhibition to mark her father's 100 years since her father was born, on August 22. Her brother Deng Pufang (first left) also visited the exhibition, which opened to the public Tuesday and will run until September 15. [newsphoto]

Memories of Deng's policies motivate visitors from all walks of society to come to the exhibition.

"Among all the country's great leaders, Deng was truly a man of his century," said Du Liugen, 74, an veteran, who fought shoulder to shoulder with Deng during the liberation war from 1946 to 1949.

A bugler in the No.2 China field army at the time, Du said he was very much impressed by Deng, who was then the Secretary of the General Frontline Committee, commanding the Central Plains and Eastern China field armies. He then led the Huaihai Campaign, one of the three Great Decisive Campaigns.

"He was really a smart man, a good commander," he said.

Du said the exhibition brought him back to the stage of strategic decisive battles during the liberation war.

Wang Yuecheng said he could never forget the address made by Deng Xiaoping to a rally held in 1984, in celebration of the 35th anniversary of the founding of the People's Republic of China.

"I was a university student in Beijing at the time and I have to say the scroll we held for him was from the bottom of our hearts," he said.

The well-known scroll, representing university students at the time, read "Hello, Xiaoping!"

Visitors pay homage to old man of century

Now working in North China's Hebei Province, Wang took his 12-year-old son to Beijing for the summer and put visiting the exhibition at the top of his tour schedule.

His son, Wang Zhuo, studied the exhibits closely. "I like it and I like history," he said.

His father said China's vast territory should appreciate Deng Xiaoping's greatness.

"Life is much improved and my son should know who made the biggest contribution to all this," he said.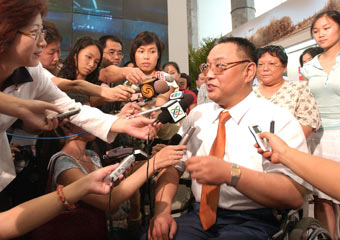 Deng Pufang, son of late Chinese leader Deng Xiaoping, is interviewed by the media Tuesday in the National Museum of China in Beijing. [newsphoto]


The hardest-working people at the exhibition must be the 18 historians from Beijing City University.

The volunteers had all been on a couple of weeks' intensive training before the exhibition.

"It was really worthwhile to give up my summer to the training, I learned a lot," said Ma Wei, one of the students.

She said that for her generation Deng Xiaoping was almost a legend. "The study of the exhibition has helped me come face to face with this great, but ordinary old man," she said. "More aspects of Deng are shown in the exhibition and it is a good complement to current text books," she said.

University teacher Wang Jinchun said the younger generation in particular should come and review the feats of Deng Xiaoping so as to carry forward the revolutionary spirit of the old days.

"This is an important lesson, which will help them improve their comprehension of this history," she added.




Today's Top News
Top China News

Museum remembers reform architect Deng Xiaoping




Tight control drags down growth pace




Document aids victims seeking redress




Central bank predicts rises in house prices




'One-China' essential to ties with PIF nations




Law drafted to end Hep B discrimination