Hairiest man recovered from ear surgery
(Agencies/Xinhua)
Updated: 2004-08-10 10:27
Rock 'n roll singer Yu Zhenhuan, the world's hairiest man, is recovering in a Shanghai Hospital from an ear operation.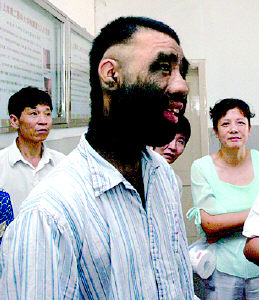 Yu Zhenhuan talks with Xinhua reporters before the ear surgery. [Xinhua]

Yu has congenitally narrower than normal ears and hair jammed his auditory canals and prevented his ears from normal secretion, Xinhua, China's main government-run news agency, reported Monday.

Doctors call Yu's condition "atavism." He had an average 41 hairs on every .4 square inch of his skin. The average length of his hair is 1.7 inches.

His condition caused Yu to suffer from earaches, nausea and headaches and he had lost a third of his hearing.

"I will continue to sing," Yu said. "Singing brings me closer to the world and cheers me up."

As a newborn, Yu was covered with hair everywhere except his palms and the soles of his feet and in 2002, he was recognized as the hairiest man in the world by the Guinness Book of Records.





| | |
| --- | --- |
| | |
| The Chinese Star Soccer Team played charity match | |

| | |
| --- | --- |
| | |
| Miss Teen USA emerged | |

| | |
| --- | --- |
| | |
| The 59th anniversary of the Hiroshima bombing | |
Today's Top News
Top Life News

Heatwave deaths prompt shield of workers




Lawmakers draw up 1st bill for farmers




Consensus on border reached with Viet Nam




FIFA chief: China a good World Cup host




Japan nuke plant leakage kills 4 people




Yao Ming to carry China flag at Olympics