Fewer US students choose computer majors
(Agencies)
Updated: 2004-08-10 09:58
Tech firms might be rebounding from the dot-com bust, but enrollment in college computer programmes keeps falling.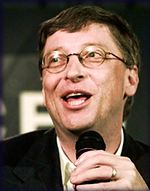 Bill Gates is an idol for many college students in the IT field. [file photo]

San Jose State University in Silicon Valley enrolled 417 full-time computer science undergraduates for the fall semester, down from 525 last year.

The University of Texas at Austin expects about 1,275, down from 1,465 a year ago. The University of Notre Dame should have 50 - better than last year, but down from 60 at the peak. Ohio State University is down 30 percent.

Nationwide data is not available. However, last year, the number of newly declared computer science and computer engineering majors in the USA and Canada fell 23 percent vs the year before, says the Computing Research Association, a college trade group. The figures are not expected to improve this year.

Blame the bleak tech job market. In the past, a computer degree meant "instant riches, or at least a well-paying, secure job," says San Jose computer science chair David Hayes. "Now, the perception is jobs are going overseas, and people are being laid off."

Students are now trying biology, nursing or other majors.

That's not necessarily a bad thing, says Peter Lee, an associate dean at Carnegie Mellon. His elite undergraduate programme received 2,000 applicants this year, compared with 3,200 at the height of the boom. But the students are often of higher quality, motivated more by love of technology than dreams of stock options, he says.

Still, many educators worry there won't be enough workers when the industry rebounds, crimping growth. Matthew Szulik, CEO of software firm Red Hat, says he's having trouble finding some highly skilled programmers. The USA grants only about 6 percent of the world's engineering degrees, behind China, the European Union (news - web sites), Japan, Russia and India, says the National Science Foundation (news - web sites) and tech trade group AEA.

Graduate programmes have not seen the same decline yet. "One place you go when you can't get a job is back to school," says computer science professor Warren Hunt at the University of Texas.

But that might change. Many US graduate programmes rely on foreign students who come here to study. In the USA and Canada, 43 percent of computer science and engineering recipients are non-resident aliens, the CRA says.

New security regulations might be keeping these students from applying. In India, the number of students taking the Graduate Record Exam, the test required for most applicants to US graduate schools, fell 56 percent this school year, vs last, test administrators say. In China, test-taking fell 52 percent.




| | |
| --- | --- |
| | |
| Fish stranded in drop of water | |

| | |
| --- | --- |
| | |
| Aid and shoulders | |

| | |
| --- | --- |
| | |
| Zhou Xun plays lead role in new TV series | |
Today's Top News
Top Life News

Typhoon kills 63, injures 1,800 in Zhejiang




Experts: Consumer prices reach peak




Quake cracks reservoirs, 50,000 in danger




Chlorine leakage injures 70 in Jiangsu




Int'l patent fair opens with eye on technology




Olympic officials: No change in Beijing's plans