Underground rock band - self gratifying in toughness
(Xinhua)
Updated: 2004-08-10 09:06
Glaring lights, shaking speakers and earsplitting screams from fans greeted every rock band performing in the "Glorious Path of China Rock'n roll" festival at the foot of Helan Mountains of northwestern Ningxia Hui autonomous region. The bands seemed to revel in the crowning gratification and glory that their music had brought them.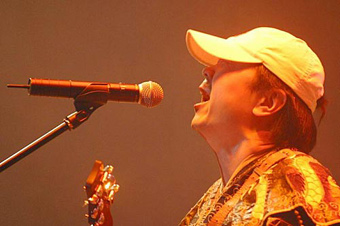 Cui Jian, godfather of Chinese rock&roll music, perfporms a song at the August 8 festival. [sina]

For many of their peers, however, this dream remains unfulfilled, as they shuttle from bar to bar each night performing for living. These bands call themselves the "underground" rock bands.

The well-known rock singer Su Yang, who performed at the festival, remembers his "underground" days very well.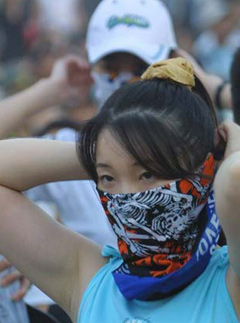 Fans wear masks during performances. [sina]

"That life is beyond the ken of ordinary people," he said.

"The term does not lie in whether the band has been signed or not, but whether it is successful," said 35-year-old Su. "If they become successful and even sign contracts with music companies, then we say they 'float aground.'"

Starting his rock'n roll life at the age of 17, Su has set up or joined four rock bands, and has performed all over China.

Performing as the prelude of the festival, Su's band currently enjoys a high reputation in Yinchuan, capital of Ningxia. This came from years of waiting and endurance, he acknowledged.

"The stress from our hardest time still saddens me when I look back on the underground days," he said.

"The music air in Yinchuan was much thinner than in Beijing," Su said. "We could only perform once every two weeks, and it was hard to make the ends meet. Once we were on the road and had spent all our money, we had just one meal in three days," he said.

"Although we finally made it back to Yinchuan, we still lived on the cheapest food, six yuan (about 70 cents) for four people every day."

"We are no longer an underground band now, thanks to our

assiduous work and also good luck," he said.

Another local rock band, C5, has not been so lucky.

"We are still living the underground life," said C5's Zhang Qian with a sigh and just a hint of pride.

"In Beijing a member of a famed rock band can earn around 500 yuan (some US$60) a night," Zhang said. "In Yinchuan, however, dozens of rock bands are struggling in a tiny market. Our life is very difficult."

He said his band spent almost all its savings on musical instruments and recording equipment.

"The electric drums cost more than 10,000 yuan (about US$1,200) and we spent another 10,000 yuan to build our own recording studio."

"Sometimes we are dejected and depressed," Zhang said. "But when we hold our beloved guitars in hands, drunkenly singing our own songs, we're back. Music gives us the courage to go on, and music makes us feel alive."

As China's rock'n roll "Godfather" Cui Jian once said, underground life was the richest nurturing soil of rock music, because compared with success and fortune, the hard life brings more inspiration.

Dong Hongjun, founder of Beijing rock band Sleepy, agrees.

In Yinchuan for "China's greatest rock music event," Dong took pride as an underground rock musician.

"Rock music prefers to reflect on reality, even some negative aspects of society. We must live under straitened circumstances to write something truly resonant."

"Of course we yearn to say good-bye to the underground life," noted Dong. "But we still belong to a marginal group today, and it is hard to be accepted by society."

"Many people consider rock music dirty and connect us with drugs and sex," he said. "But in fact we sing about the common life."

The year 2004 is a crucial one for rock music -- it is not only the 50th birthday of the genre, but also the 20th anniversary of its entry into China.

"Unless we give our life up, rock music will make itself a mainstream in China," Dong said.




| | |
| --- | --- |
| | |
| The Chinese Star Soccer Team played charity match | |

| | |
| --- | --- |
| | |
| Miss Teen USA emerged | |

| | |
| --- | --- |
| | |
| The 59th anniversary of the Hiroshima bombing | |
Today's Top News
Top Life News

Lawmakers draw up 1st bill for farmers




Consensus on border reached with Viet Nam




FIFA chief: China a good World Cup host




Japan nuke plant leakage kills 4 people




Yao Ming to carry China flag at Olympics




Heatwave deaths prompt shield of workers