Shanghai sizzles again with jazz
(Agencies)
Updated: 2004-08-10 08:39
In the 1930s, Shanghai, known as the Paris of the East, was the cabaret and jazz center of Asia.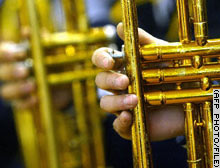 Jazz is back in vogue in the bustling city of Shanghai.

Shanghai sophisticates flocked to hotspots such as the Jazz Bar in the Peace Hotel on the Bund.

But linked with drug lords, gambling and prostitution, jazz music was banned as a decadent form of entertainment after the Communists came to power in 1949.

Now 20-somethings, born as the ban on the music was lifted, are plucking out Shanghai's new spirit of creativity and innovation.

"Shanghai is very modern, international, and people here, we are well educated and we have a taste for everything, including music," says Hilton Hotel jazz diva Carrie Zhang.

China's largest city has become home to a new generation of jazz players.

A small but growing audience is beginning to gather in pubs like JZ, which is co-owned by trumpeter Hwa Wu.

"What we're doing right now is we're trying to use local musicians, make local Chinese know that actually there are local Chinese doing jazz music, in China, in Shanghai. So we're trying to do like a jazz festival, you know, be more active on different levels," says Hwa.

The music has become so hot that EMI has released a record of decadent 1930s Chinese jazz, played by the young musicians and singers in Shanghai.

Twenty-nine-year-old saxophonist Zhang Xiaolu is one of the up and coming artists, playing music that conjures up images of Shanghai in the 1930s, when his grandfather played saxophone in local cabarets.

"Their jazz music was mainly Dixieland and swing. They played old-style jazz -- old pop music. Very retro," says Zhang.

People like Zhang play with the flair and energy that characterizes the phenomenal rebirth of China's most sophisticated metropolis.

"This is the first generation of jazz musicians here, so the experience is not really there yet. But boy the enthusiasm is building, and all these guys are right into it," says Australian composer John Huie.

Huie has produced an album of old Shanghai jazz, sung and played by new artists, and he is trying to encourage traditional musicians to improvize.

"You say, 'look, just be free, when you play that phrase, play it the way you'd like to play it, with a bit of flair or a trill or something,'" says Huie.

Jazz can be heard nightly in a number of Shanghai lounges, bars and clubs, with the legendary Peace Hotel Bar among them.




| | |
| --- | --- |
| | |
| The Chinese Star Soccer Team played charity match | |

| | |
| --- | --- |
| | |
| Miss Teen USA emerged | |

| | |
| --- | --- |
| | |
| The 59th anniversary of the Hiroshima bombing | |
Today's Top News
Top Life News

Lawmakers draw up 1st bill for farmers




Consensus on border reached with Viet Nam




Japan nuke plant leakage kills 4 people




Athletes hail hoisting of national flag




Heatwave deaths prompt shield of workers




Poor students held back by debt