Japan nuke plant leakage kills 4 people
(Agencies)
Updated: 2004-08-10 08:29
Four workers died and seven were injured after steam leaked from one of the reactors of Mihama Nuclear Power Plant in west Japan's Fukui Prefecture.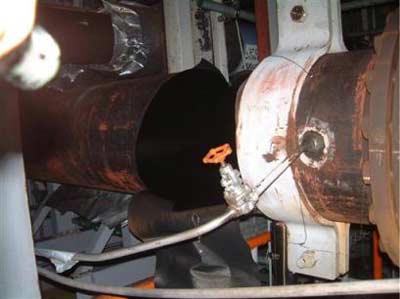 A burst pipe is seen at one of the reactors of Mihama Nuclear Power Plant in Mihama, western Japan Monday, Aug. 9, 2004. Japan suffered its deadliest nuclear power plant accident Monday when the pipe burst killing at least four workers and injured seven. No radiation was released when boiling water and steam exploded from a cooling pipe at the plant. The leak was caused by a lack of cooling water in the reactor's turbine, according to a spokesman for plant operator. [AP Photo]
No external radioactive leak is believed to have taken place, said the Kansai Electric Power Co. that owns the plant.
The steam leak took place at a facility housing the turbines for the No. 3 reactor of the plant, located in the town of Mihama,at around 3:30 p.m.(0630 GMT).
According to the Nuclear and Industry Safety Agency under Japanese government, eleven people were injured in the accident, including five who suffered heart-lung failure after being exposed to hot steam. The four dead were among the five who were seriously injured.
The 826,000-kilowatt pressurized-water reactor was automatically shut down, the agency said, the steam leak is believed to have been caused by trouble in the secondary circulation system. The facility filled with steam.
All the victims were employees from another company which provides technical services to power plants, the company said. The workers were believed to be preparing for a routine check.
Japanese Prime Minister Junichiro Koizumi said it is regrettable that casualties were inflicted and demanded a thorough and quick investigation.
The No. 3 reactor began service in December 1976.
In February 1991, a tube inside a steam generator at the No. 2 reactor in the same plant broke, resulting in the leak of 55 tons of radioactive water from the main cooling system into the secondary system that powers the reactor's turbine.
The 1991 accident was the first time in Japan that an emergencycore cooling system was activated.
The Mihama plant was the first nuclear plant built by Kansai Electric. The No. 1 reactor began service in November 1970.
Today's Top News
Top World News

Lawmakers draw up 1st bill for farmers




Consensus on border reached with Viet Nam




Japan nuke plant leakage kills 4 people




Athletes hail hoisting of national flag




Heatwave deaths prompt shield of workers




Poor students held back by debt