Heatwave deaths prompt shield of workers
By Fu Jing (China Daily)
Updated: 2004-08-10 00:09
A recent spate of deaths caused by sizzling summer weather has prompted calls for changes in the law to protect workers.
In South China's Guangdong Province summer heatwaves caused 40 deaths early last month.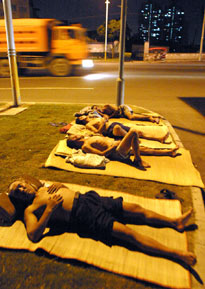 Migrant workers from East China's Anhui Province sleep on the streets of the city of Wenzhou in Zhejiang Province on Sunday night to escape the heatwave. [newsphoto]

Most of the victims were builders, the youngest just 20 years old.

There was another death in East China's Shandong provincial capital of Ji'nan, when a dustman died of sunstroke in temperatures of 35 C.

Unionists and work safety authorities have called on lawmakers to look particularly at the plight of workers on building sites, who are forced to work in excessive temperatures.

Wang Xiaotao, a work safety official under the All-China Federation of Trade Unions, said a "vacuum" exists in terms of work safety under such weather.

"Companies and organizations are required to abide by a regulation unveiled in 1960 but this is already out of date," said Wang.

The regulation broadly says that when temperatures reach 40 C, labourers must down tools and rest. But the law does not make clear what punishments should be handed out for companies and organizations who ignore the regulation.

Offices and other indoor work places often now have air-conditioners, but in factories and building sites, workers are either exposed to the elements or shut up with no ventilation all day.

In Guangzhou, workers in clothing factories in Ruibao Village, Haizhu District, have to work for long hours in damp and air-tight workshops.

"There's not even a fan in our factory, let alone an air-conditioner, and sometimes we have to work for 14 hours a day," said worker Huang, who is being treated in hospital because of his working conditions.

Even in the Chinese capital Beijing, some workers are forced to work in unbearable weather without extra pay or precautions.

One Tongcheng Express bicycle courier, who refused to give his name, delivers mail regardless of temperatures.

"The boss doesn't take any measures to stop us getting sick because of the weather," he said.

The summer heatwave has heated up many areas in China.

Action urged for heatwave

Hospitals have been busy treating victims of sunstroke, dehydration, fever, heart disease, vomiting and asthma.

"Hot weather is becoming common because of global warming and climate change," said Sun Shuhan, a professor at the Renmin University. "Our countermeasures should adapt to the trend."

Guangzhou, which recorded temperatures of over 38 C just three times between 1951 and 2003,has already been blasted three times this month alone.

The city is now taking the lead in introducing a heat-warning system to help local companies and residents take effective precautions.

The provincial observatory has also suggested a "sunstroke index" is issued to tell people what they can do to stave off heat symptoms -- like resting, staying out of the sun and drinking plenty of liquids.

When the weather becomes dangerously hot, the observatory will advise local governments and companies to give workers time off in the shade.




Today's Top News
Top China News

Heatwave deaths prompt shield of workers




Lawmakers draw up 1st bill for farmers




Consensus on border reached with Viet Nam




FIFA chief: China a good World Cup host




Japan nuke plant leakage kills 4 people




Yao Ming to carry China flag at Olympics