Athletes hail hoisting of national flag
By Yu Yilei (China Daily)
Updated: 2004-08-10 00:09
The flag-raising ceremony of the Chinese delegation to the 2004 Athens Olympics was truly a party with singing, dancing, music and a surprise visit from former International Olympic Committee (IOC) President Juan Antonio Samaranch.
Around 200 athletes, coaches and officials headed by Chinese Olympic Committee (COC) President Yuan Weimin attended the ceremony held in the Olympic village, signalling that one of the biggest sporting nations in the games has started going for gold.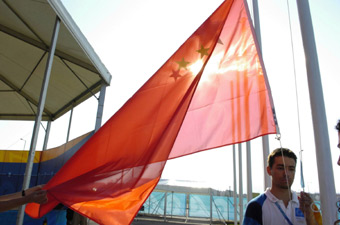 China's national flag was hoisted yesterday at the athletes' village of the 2004 Athens Olympic Games before receiving a blessing from former International Olympic Committee president Juan Antonio Samaranch. Entering the village before the ceremony, Samaranch met Chinese athletes and officials. Ioannis Manos, the Olympic Village manager, delivered a welcoming speech. [Xinhua]


The ceremony started with a traditional Greek dance accompanied by bagpipes.

Inannis Manos, manager of the village, then announced the raising of the flag.

"It's so thrilling to see the flag of my nation raised here because it means another Olympic campaign has started," said Le Maosheng, Chinese weightlifting world champion.

"I feel filled with power and I think that I am now ready for the Games."

"I felt the greatest honour to attend this ceremony because China is a big country and Beijing will be the next Olympic city," said Iraklis Grous, a Greek volunteer who raised the Chinese flag.

"I am a little bit scared because I know how important it is," said the 20-year-old who returned from the United States where he studies.

China is sending a 633-member delegation to the games including 407 athletes, the biggest in history. It is going for at least 20 gold medals, trying to keep its third place on the medals table.

"Now everything is fine with the delegation and we have had a good reception here," said COC Vice-President He Huixian.

"There will many difficulties ahead, but we are confident that we will fulfill our goal."

The abrupt appearance of Samaranch just before the flag was raised caused a stir at the ceremony.

The former IOC president was then applauded by the Chinese delegation.

"I heard today is the flag-raising ceremony for China and that's why I came here," said Samaranch.

He believed that the delegation would be very successful in Athens, saying that its brilliant show here will ensure a more successful achievements four years later on home soil during the 2008 Beijing Games.

"Four years later you will have the Olympics and you must achieve a good result," he said.

Asked how many golds he expects Chinese to win, he said: "I don't know, but I think it should be many, many."

Apart from Beijing, he also gave a praise to the Athens Olympic organizers who have been criticized for their behind-schedule preparations.

"For the Games, I think so far so good," he said. "The work is very well and if they keep doing like that, it will be a successful games."

The Games will start on August 13. A record figure of 11,000 athletes and 5,500 team officials from 202 national Olympic committees are participating in the games, alongside more than 45,000 volunteers and 21,500 media representatives.




Today's Top News
Top China News

Chinese national flag raised in Athens




Highest temperatures to hit China




Prosecutor: Big graft cases increase




At least 5 dead at Japan nuke plant




Militants kidnap Iranian diplomat in Iraq




Web of moral corruption under fire