It's just kids' stuff
(Beijing Review)
Updated: 2004-08-09 16:00
The word is out, but where are all the Chinese children authors?
Cheng Ji, a 13-year-old primary school student in Zhejiang, a province on the southeastern seaboard, is a loyal fan of Harry Potter, the famed fantasy series by British author J.K. Rowling. He has collected every book in the series and is able to recount almost every detail of the boy wizard and his adventures.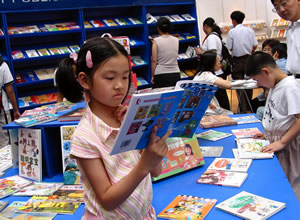 Reading Is Cool: A child reads a cartoon book at the opening ceremony of the inaugural International Children's Library Exhibition on July 10 in Shanghai. [file photo]

Cheng is not alone. Children's books from abroad are very popular among Chinese kids. A few notable examples include international best sellers like Harry Potter series and Goosebumps, a horror series for kids by author, R.L. Stine, who is from Ohio. Many Chinese-authored books, however, have failed to captivate their target readers.

According to People.com.cn, the Harry Potter series has sold nearly 30 million copies nationwide since the Beijing-based People's Literature Publishing House ran the first issue of the series in 1998.

Goosebumps, published by Jieli Publishing House, has pressed 3.2 million copies in just a year and a half since publication. These figures are extraordinary in a country where the average number of children's books that get printed is a mere 20,000.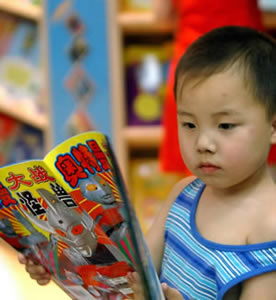 Now, That's Exciting: A child peruses the Japanese comic, Ultraman, at a kid's bookstore in Beijing. Foreign children's literature dominates the Chinese market. [file photo]

This is not to say no domestic children's book has been well received. Children's literature critics called a recently published series, titled Ma Xiaotiao: The Mischievous Imp, a sales "miracle," which sold 1.2 million copies six months after publication.

However, many educators and parents are still very concerned about the fact that children get a reading list with more foreign books than domestic ones.

Even after years of advocating "local culture" in education, many experts still believe that domestic children's literature is lagging far behind their foreign counterparts for a number of reasons.

One of the problems, critics say, is that whenever a kind of book becomes popular, publishers barge toward it, forgetting the danger of blindly following the fashion.

When Who Moved My Cheese? became a hit several years ago, a barrage of similar books appeared shortly afterwards, teaching readers how to "rethink their life" or "cooperate with team players." One result is over saturation, making readers bored of the same stuff, says a Xinhua News Agency com-mentator.

Pirated editions and plagiarism are other challenges. Some popular books are copied and sold with exactly the same content but slightly changed covers to evade government checks on fakes. When readers get confused, publishers annoyed and writers discouraged, the piraters are the only people left smiling.

But for the 30 publishing houses in China, a more troubling problem may be finding creative and original writers. When books like Goosebumps are full of suspense that get kids deeply involved, many local books tend to indulge in social sermons, not differing much from school textbooks.

"I love the characters," said Li Jinlian, a 16-year-old high school student who likes to read Japanese cartoons, "They feel close to me. Sometimes even my teachers and parents don't understand how I really feel."

Yang Jie, mother of a 13-year-old, recalled what happened in a book fair last month around International Children's Day. "My child cried for Harry Potter, but there were too many people and we couldn't find it. My child got really disappointed," said the mother.

Yang managed to find the copies later. She read with her child and surprisingly found herself finally really "fascinated" by the shaggy-haired pre-teen magician.

Yang Hongying, one of the few contemporary Chinese children literature writers popular on the mainland, commented, "The pen of a fairy tale writer is like his or her magic wand. It should be able to bury lessons in something easy and funny. A good story should be able to make children feel the pleasure of reading, while wanting to seek knowledge in books."

Yang used to be a teacher and has a daughter, herself. She knows how to capture the heart of children. Both teachers and teenagers enjoy her works like Girls'Diary and Boys'Diary. Ma Xiaotiao: The Mischievous Imp, a best seller, is one of her more recent works.

Telling stories in the language of children is the best way to write books for young people, said Yang Hongying. Yang's books are very readable. And they contain elements familiar to most children, like a heavy load of schoolwork, misunderstanding between parents and teachers, the teenage confusion toward the world and society as well as the vague attraction of the opposite gender.

They also touch upon social problems that some children may encounter. Issues like single parent families and divorce are thrashed out in a storytelling rather than high-browed lectures.

"I try to make my characters like real life kids and by telling their stories, I would like to reveal the gap between the world of children and adults. I hope when these kids grow up and look back at their childhood, they can still have a positive and optimistic attitude," said Yang.

Yang is one of the few success stories, but many more writers are still struggling not only to find the right story ideas, but also the right publishers who can properly market their books.

Yu Ren, editor of both the Chinese version of Ma Xiaotiao: The Mischievous Imp and the Goosebumps series, said one fatal mistake many publishers make is ignoring how to market children's books. Like any product, a book needs promotion and an appeal to make them reach the consumers.

No matter how good a book is, Yu said, it would not be commercially successful without proper marketing techniques, at least not very quickly.

He cited Ma Xiaotiao: The Mischievous Imp as an example of how to market a product. After the draft came out, the publisher sent it to several primary and middle schools all over the country to gauge the reaction of students. Later the editor talked to those students personally, soliciting opinions. When 90 percent of the first group of children said they couldn't stop reading the book, the editor knew they had something to sell.

The marketing efforts did not end there. Children offered suggestions on certain kinds of paper to use and character font, Yu said. The main character's image was chosen from a dozen options that were decided based on its appeal to the children.

Yu said they also learned from books like Harry Potter. The publishing house has decided to expand the business potential of their roguish imp by developing a toy line, clothes and even theme park rides based on him.

Some publishing houses do not seriously investigate the market before they publish books, Yu commented, implying this is one glaring reason their books are selling well.

There were 300 million children under the age of 16 in China in 1996, which is more than the total population of the United States. In 2000, more than 7,000 different children's books were published, soaring from 2,446 in 1980. In 1978, there were only two publishing houses dedicated to children's books. Now there are more than 30 on the Chinese mainland, with at least one in most administrative regions.

These numbers keep rising: Between 1996 and 2000, more than 1 billion children's books were sold nationwide, which is an average of 200 million being sold every year.

More Chinese authors would do well to learn from Yang Hongying. Local ingenuity and marketing savvy are what will make more Chinese kids read.




| | |
| --- | --- |
| | |
| The Chinese Star Soccer Team played charity match | |

| | |
| --- | --- |
| | |
| Miss Teen USA emerged | |

| | |
| --- | --- |
| | |
| The 59th anniversary of the Hiroshima bombing | |
Today's Top News
Top Life News

Shanghai: Sex bias exists in local job market




Web of moral corruption under fire




Gay men get fast HIV tests in Hangzhou




Prosecutor: Big graft cases increase




Experts divided over macro control measures




Premier Wen vows to continue macro control