Born in the 1990s
(Beijing Today)
Updated: 2004-08-09 10:19
"Peking Opera is awful. Those lianpu look beautiful, but the rhythm of the music is truly unpleasant to hear, and I cannot make out what they are singing and talking about at all."
–Yeye, a Beijing boy who was born in 1994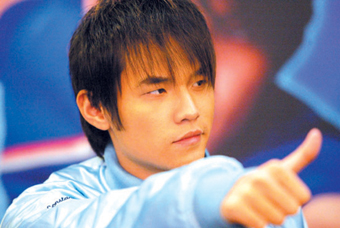 Jay Chou is the idol of many children who were born in the 1990s [baidu]

People often talk about how the differences between older and younger Chinese people seem to grow more pronounced with each new generation. Some point to the advantages of greater material comforts, wider channels of information, more open views, more choices and more opportunities. But there's also evidence that valuable cultural tradition is being lost, as the outlook becomes more global.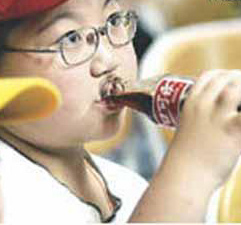 Cola is their favorite beverage. [Photocome]

News Weekly, a Guangzhou-based magazine, conducted a survey on more than 100 children in Beijing, Shanghai, Guangzhou, Hong Kong and Taipei, who were born from 1990 to 1995, about their knowledge of traditional Chinese culture, modern Western culture, their life attitudes, habits and consumption patterns.

The survey found that many of the children showed more interest and had more knowledge of the outside world, but that their knowledge of China's traitional culture was less impressive, compared to more senior generations.

A global generation

Most of the respondents showed a strong interest in going abroad. Only a fifth said they did not wish to travel outside China. One fifth said they would travel abroad, but mainly for the purpose of study. A quarter said their main interest would be sight-seeing. However, one third said the reason they'd like to go abroad would be to communicate with foreigners and broaden their visions.

When asked, "which language do you consider more important, Chinese or English?" two thirds answered that English was more important than their mother tongue. "Of course English is more important, since it can help with international communication," said Xia Ning, a Guangzhou student aged 14 to News Weekly.

Many of the children had already been to other countries. Among them, 17 percent had been to Europe, 9 percent had visited other Asian countries, 6 percent had traveled to America, and 3 percent had visited Africa.

Chinese food is also losing out among children. When asked what they'd prefer to eat if their parents took them out for dinner, slightly more selected steak, KFC and McDonald's than Chinese food.

Choices are also expanding in terms of entertainment. More than one third of the children said they preferred foreign songs to Chinese ones.

The children also had an impressive knowledge of famous brands. When asked which brands impressed them most, a wide range of world-famous names were offered in response, including Chanel, Panasonic and Marlboro.

How much traditional knowledge remains?

Asked to list the four greatest inventions in ancient China (paper, the compass, gunpowder and the printing press), less than half knew all four, and 13 percent knew none of them.

Brush calligraphy is a kind of unique Chinese art. In ancient China, people would be very proud if they could write good calligraphy. However, according to the survey, 60 percent of the children had little knowledge of this tradition.

Accordingly, not everyone was familiar with "wenfangsibao", the four necessary items to write traditional calligraphy, namely bi, mo, zhi, yan. (writing brush, ink stick, paper and ink slab). Only 65 percent of the respondents knew all four. Most of the rest knew none of them.

Another fear is the potential demise of Peking Opera, if attitudes among the young are anything to go by. When asked "have you heard of Peking Opera, and do you like it," 49 percent said "I have heard of it but I don't like it;" 45 percent had not even heard of it. Only 5 percent of the children said they liked it.

"It is awful," told Yeye, a Beijing boy born in 1994, to Beijing Today. "Those lianpu (make-up designs) look beautiful, and following my father's suggestion I used to send some to my cousin who has emigrated to Canada. But the rhythm of the music is truly unpleasant to hear, and I cannot make out what they are singing and talking about at all."

She believes that the problem lies with inadequate education and the lack of proper methods for getting young people interested in their cultural heritage.

Another survey conducted at Zhejiang University would appear to support her idea. Students were asked to choose which they would prefer from six kinds of optional courses, including traditional culture, foreign languages, modern culture and sports. About one-third of the students chose traditional culture, making it easily the most popular.

When asked what they felt was wrong with education about traditional culture, most students said there weren't enough teachers. They also mentioned that society did not require people to know that much about it.

"I asked my daughter to study calligraphy, even though she had little interest in it. I realize I asked her to study it mainly because of my vanity, hoping she would win awards in some competitions," said Zhao Yuanyuan, the mother of an 11-year-old girl in Beijing, to Beijing Today. "Sometimes I feel confused as well. Now that everyone uses computers, is it useless to be able to write good calligraphy?"

"I think it must be a good thing to know a lot about traditional culture," said Zhou, Zhao's daughter. "But no one talked to me about it that much, no one really told me how good or interesting it is, either my parents orachers. They care more about examinations, you know. However, I really do not like calligraphy. I don't think I have a gift for it."

Ironically, in News Weekly's survey, 16 percent of the children said their favorite singer is Jay Chou. But not many of them knew that Jay Chou has adopted a number of Peking Opera tunes in his songs.




| | |
| --- | --- |
| | |
| Miss Teen USA emerged | |

| | |
| --- | --- |
| | |
| The 59th anniversary of the Hiroshima bombing | |

| | |
| --- | --- |
| | |
| Singer Wang Feng to give Beijing solo September | |
Today's Top News
Top Life News

Shanghai: Sex bias exists in local job market




Web of moral corruption under fire




Gay men get fast HIV tests in Hangzhou




Prosecutor: Big graft cases increase




Experts divided over macro control measures




3 Chinese-Filipinos abducted -- Police