Premier Wen vows to continue macro control
(Xinhua)
Updated: 2004-08-09 08:52
Premier Wen Jiabao has reiterated the importance of the macro-economic control policy and pledged to further consolidate the achievements of macro-economic control and realize the preset targets for 2004.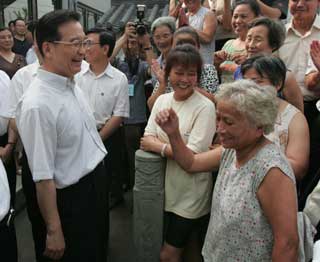 Chinese Premier Wen Jiabao (L) talks with a resident during his working visit in Chengdu, capital city of Southwest China¡¯s Sichuan Province August 7, 2004. [Xinhua]


Between August 5 and 8, the premier visited a number of cities in Sichuan Province, southwest China, to meet local villagers, factory workers, scientists and urban residents.

On Aug. 5, the premier paid a visit to the ancestral house of late Chinese leader Deng Xiaoping (1904-1997) in Guang'an City, to mark the 100th anniversary of Deng's birth, which falls on Aug. 22.

Deng is known as "the chief architect of China's reform, opening and modernization drive," said Wen, who is also a member of the Standing Committee of the Communist Party of China (CPC) Central Committee Political Bureau.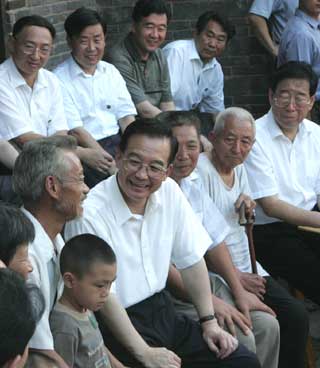 Chinese Premier Wen Jiabao (C) talks with a villager during his working visit in Guang¡¯an city of Southwest China¡¯s Sichuan Province, August 5, 2004. Wen Jiabao has visited Guang¡¯an, Mianyang, Deyang and Chengdu in Sichuan Province from August 5-8. [Xinhua]

On Aug. 7, Wen presided over a meeting, in Chengdu, the provincial capital of Sichuan, with leading officials of the Guangxi Zhuang Autonomous Region, Chongqing Municipality, and Sichuan, Yunnan and Guizhou provinces.

At the meeting, the premier said China's current economic situation is good, in general, and the central government's macro-economic control policies and measures are being implemented step by step and have been fruitful. But the macro-economic control is in its crucial stage, he said, calling for ceaseless efforts to accomplish the work of various kinds.

In the second half of this year, the government will substantially strengthen the agricultural sector to increase grain production and farmers' income; further curb the rampant growth of investment and optimize the investment structure; strengthen the readjustment of economic operation to ease tension in the industries of coal, power, oil and transport; continue the economic restructuring by deepening state enterprise reform and promote the development of private sector; and deal with protruding issues that have a bearing on the interests of the people, to maintain social stability.




Today's Top News
Top China News

Shanghai: Sex bias exists in local job market




Web of moral corruption under fire




Gay men get fast HIV tests in Hangzhou




Prosecutor: Big graft cases increase




Experts divided over macro control measures




Premier Wen vows to continue macro control