Mall fire forces 2,000 people to flee
(Agencies)
Updated: 2004-08-08 11:19
A fire that began in a food stall forced some 2,000 people to flee a shopping mall in Southwest China's Chongqing on Saturday, but caused no deaths or injuries, local officials said.

Firefighters rush to the site shortly after fire was reported at the Big Capital Shopping Mall in Chongqing, Southwest China, Saturday, August 7, 2004. [newsphoto]
The fire was reported shortly after 10 a.m. Saturday at the Big Capital Shopping Mall in Chonging and the mall was ordered evacuated, said an official of its management office. He would give only his surname, Zhou.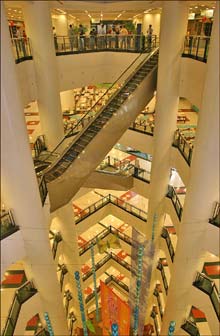 More than 2,000 people are evacuated from th eight-story building after fire broke out. [newsphoto]

It was extinguished after about 30 minutes, said a man who answered the phone at the Chongqing fire-fighting headquarters. "No casualties have been reported," said the man, who refused to give his name.

The fire started in the kitchen of a food stall on the mall's seventh floor, Zhou said. He said the top two floors of the eight-story building are filled with food vendors, while shops occupy the rest.

More than 2,000 people were evacuated as billowing smoke filled the upper stories of the mall, the website of the People's Daily newspaper reported.

In February, a fire blamed on a discarded cigarette killed 54 people at a mall in the northeastern city of Jilin. Six mall employees were sentenced to prison on negligence charges.

The government is in the midst of a nationwide crackdown aimed at enforcing safety standards in public buildings, which often lack adequate fire extinguishers and emergency exits.




Today's Top News
Top China News

Japan defeats China in Asian Cup final




76 Chinese rescued from deadly England tide




US man fakes own decapitation in video




Mall fire forces 2,000 people to flee




Railway financing plan chugging along




100 unexploded bombs found in SW China city