Doctors help hairy man with hair problem
(eastday.com)
Updated: 2004-08-07 11:39
Yu Zhenhuan once agreed with all the people who think the hair that covers 96 percent of his body makes him a freak.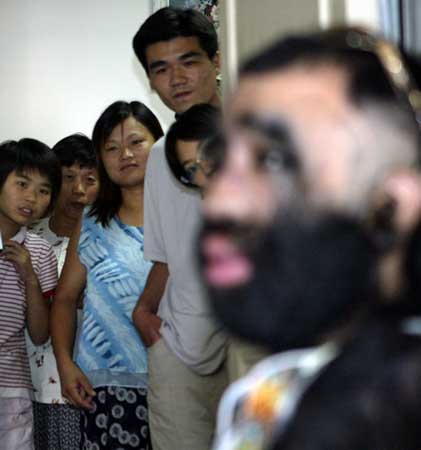 Hairy Yu Zhenhuan at the Shanghai No. 9 People's Hospital August 5, 2004, curious people crowding around to have a look. Yu receives a operation on the ear to elevate his hearing, said the hospital. [sina.com]

He has grown to appreciate his condition, however, and now looks at his hair as a blessing that separates him from everyone else.

While he has turned down offers in the past from doctors who said they could help him remove the unsightly body hair, he agreed to have some clipped yesterday at the Shanghai No. 9 People's Hospital.

Doctors performed a little surgery to remove hair from Yu's ears that had already affected his hearing and caused a threat to his brain.

Yu, 26, has gained fame as a singer in the south.

"My singing talent was recognized at the age of 17 and I went to study at an art school," he said. "I am very popular on the stage and have gone abroad to perform. I like my hair, since that's why I am so different."

He admits, however, hair has also brought him trouble.

According to Yu, hairs began to grow in his auditory canal when he was two years old. Ear secretion generated in the canal and started to influence his hearing.

"We broadened his auditory meatus and rectified the malformation," said Dr Chen Jin'an, director of the hospital's laser treatment center. "To prevent impact from the hair, we also remove all the hair-growing tissues so he won't have hairs in his ears in the future."

Yu was born to a farming family in Liaoning Province. No other members of his family share his hairy problem.

"I felt I was special and felt deeply humiliated during my childhood. I refused to leave home and have any communication with the outside world," he said. "Later, I realized I can enjoy myself."





| | |
| --- | --- |
| | |
| The Chinese Star Soccer Team played charity match | |

| | |
| --- | --- |
| | |
| Miss Teen USA emerged | |

| | |
| --- | --- |
| | |
| The 59th anniversary of the Hiroshima bombing | |
Today's Top News
Top Life News

Heatwave deaths prompt shield of workers




Lawmakers draw up 1st bill for farmers




Consensus on border reached with Viet Nam




FIFA chief: China a good World Cup host




Japan nuke plant leakage kills 4 people




Yao Ming to carry China flag at Olympics