Mentally ill child killer gains sympathy
(Agencies)
Updated: 2004-08-07 09:38
Incident highlights the plight of people with personality disorders, who are shunned instead of given psychiatric help.
The mad man who slashed 15 children at a Beijing playschool this week has helped to revive a debate about the status of mentally ill, who are regarded even more as pariahs than the disabled.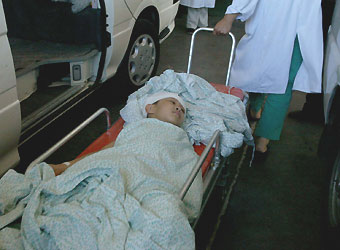 An injured boy is escorted to a hospital after a kindergarten gatekeeper stabbed 18 children and three teachers in a kindergarten Wednesday morning in Beijing. A child died later due to serious injuries. The man was arrested and alleged to have a history of mental illness. [newsphoto]

Rather than anger, parents and psychiatrists have expressed sympathy for Xu Heping, whose Chinese name means peace.

The security guard with a history of schizophrenia had been working for two years without incident.

But on Wednesday, he suddenly lunged at teachers and children at the Peking University Number One Hospital kindergarten with a kitchen knife, killing a four-year-old boy.

The public has not blamed him. Instead, the people blame a culture that prefers to hide away people with mental or personality disorders, rather than acknowledge them and provide help for them.

A psychiatrist's response was telling. Dr Li Bing, from Peking University's Number Six Hospital Mental Health Institute, said: 'I don't want to talk about this sensitive issue.'

But Xu may be helping the society to break the silence.

The official media yesterday called for legislators to get moving on a mental health law, drafted in 1985, aimed at providing the mentally ill with legal protection and minimal health care.

Only Shanghai has passed the law in 2001. The lack of progress elsewhere may be due to the small population of mental patients.

About 1.2 per cent of China's population, or 1.6 million people last year, suffered from any form of mental illness.

The society, however, appears to have realised that the problem is not one of numbers, but of patient protection. Today, just one in five patients gets treatment. The rest blend inconspicuously into normal society.

'We can't evade the problem of mental illness,' the official People's Daily said yesterday.

'It's not an ideological problem but a real abnormality that needs medical treatment.'

If passed, the mental health law guarantees people like Xu the right to schooling, employment and job interviews.

Patients whose families dispute their custody would also have a safety net.

They would be able to seek shelter and treatment at public hospitals if their families orsook them. Currently, patients depend on social connections to get help, as Xu did.

For five months in 1999, he was warded at Beijing Anding Hospital, a top facility for mental illnesses. His wife worked there. She got him the job at the Number One Hospital kindergarten.

Lawyers also want laws to be less discriminatory. The maternal and child health-care law, for instance, bars people with acute mental illnesses from marrying.

The state media has been kind to Xu. Newspapers quoted lawyers pushing for the kindergarten that hired him to be held accountable and for the man to receive psychiatric help.

Beijing's public security bureau said yesterday that Xu's case was being investigated. It could not confirm if he was being treated.

Yuetan Number Four kindergarten and other play- schools in Xicheng district, where the attack took place, yesterday held staff meetings to raise safety awareness.

One school, Fusuijing Kindergarten, even required all teachers to provide extensive details about their families' health history.

China's Education Ministry, however, said there was no nationwide campaign to raise school safety standards as a result of Xu's attack.




Today's Top News
Top China News

Global aid sought to check Taipei separatists




Drill tests Sino-Pakistani forces




Mapping of fatalities forecasts death trends




Teachers needed for surging college students




Asian Cup finals fever hits capital




Cultural expo touts industry