Drill tests Sino-Pakistani forces
(China Daily/Xinhua)
Updated: 2004-08-07 00:48
More than 200 Chinese and Pakistani elite troops held their first joint anti-terrorism exercises named "Friendship 2004," in Taxkorgan Tajik Autonomous County, Northwest China's Uygur Autonomous Region on Friday afternoon.
The live-fire drill, on the Pamirs at above 4,000 metres, involved encirclement, assault and mop-up practices, achieved "great success," said Major General Cheng Bing with the professional group of the joint training.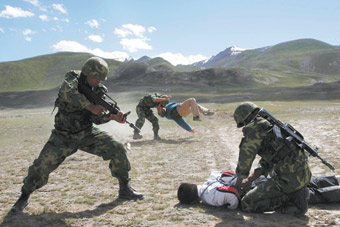 Two runaway "terrorists" are caught during a joint military drill on Friday between Pakistan and Chinese frontier troops at the border on the Pamirs. [Xinhua]


"The exercise is aimed to further strengthen co-operation between the two countries and armies in non-traditional security field and maintain security and stability in the region, improve the capacity of jointly combating terrorism, separatism and extremism," Cheng said.

The exercise, participated by China's People's Liberation Army and the Armed Forces of Pakistan, also used "most advanced weapons," giving joint demonstration of anti-terrorism operations, according to Pakistan military source.

Cheng said the exercise proved the Pakistan troops have rich experience in information collection and organizing combat operations, saying each side shared successful exchanges.

China has accused some Uygur nationals in Xinjiang as well as in other areas, including Pakistan and Afghanistan, of being part of the "East Turkistan'' terrorist groups, saying that hundreds of Uygur nationals were training in Afghanistan and/or fighting for the Taliban and al-Qaida. In August and September of 2002, the United States and United Nations also added the East Turkistan Islamic Movement (ETIM) to their list of terrorist organizations.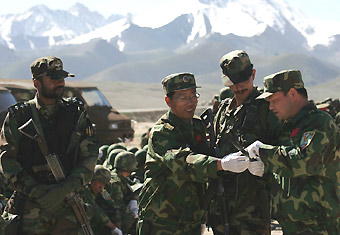 Military officers for both countries check out their plans for the drill. [Xinhua]

The Chinese Ministry of Public Security publicized a list of the first identified "East Turkistan" terrorist organizations and 11 terrorists by the ministry last December,which drew active responses from the international community.

China has reiterated its firm support for international co-operation in combating terrorism and its hope of gaining more assistance from other countries for its anti-terror endeavors.

China has thanked Pakistan's efforts in combating terrorism and wished for greater and closer co-operation with Pakistan and other countries.

Hasan Mahsum, head of ETIM, was shot dead by the Pakistani army last October in a joint anti-terrorism raid along the border of Pakistan and Afghanistan.

Just last month, China and Pakistan have agreed on a working plan for taking effective measures to prevent and combat terrorism.

Pakistan Interior Minister Syed Faisal Saleh Hayat held detailed discussion with Chinese leaders for effectively dealing with their common security concerns during his four-day visit in China.

During his talks with Chinese Minister for Public Security Zhou Yongkang, it was decided that the sides will enhance co-operation in strengthening their existing security network for providing peace and security to their people.

The relevant agencies of the countries are in contact round the-clock to monitor and control the activities of the terrorist groups in their respective territory, inside and around the border area, said the interior minister.

Pakistan joined the international coalition against the war on terrorism and became a frontline state in this fight since the terrorist attacks on the United States in September of 2001.

China fully supports combating international terrorism and also expresses its complete support for Pakistan's principled policy to assist the international community in its fight against terrorism.




Today's Top News
Top China News

Global aid sought to check Taipei separatists




Drill tests Sino-Pakistani forces




Mapping of fatalities forecasts death trends




Teachers needed for surging college students




Asian Cup finals fever hits capital




Cultural expo touts industry