Asian Cup finals fever hits capital
By Qin Chuan (China Daily)
Updated: 2004-08-07 00:48
Saturday night will surely be crazy for Chinese football fans.
China's national soccer team will have a wrestle with Japan's for the Asian Cup.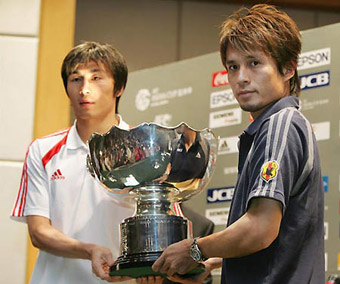 Chinese national soccer team's captain Li Weifeng and his Japanese couterpart Miyamoto pose with the Asian Cup at a press conference Friday in Beijing. China's national soccer team will have a wrestle with Japan's for the Asian Cup Saturday night. [newsphoto]

It is the second time that China has played in the Asian Cup final. Previously, it was in 1984.

China has never won the Asian Cup before.

Football fans are well prepared to watch the game.

"Of course we will not lose the game. I have bought lots of beer and invited some of my friends to watch together,'' said a Shanghai fan Xia Xiaofeng.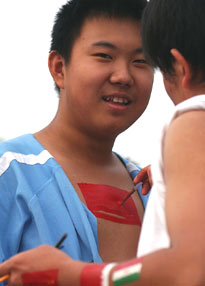 A Chinese football fan paintsflags of Iran, Bahrain and China on another fan's body before Friday evening's match. Iran beat Bahrain 4-2 to take third place inthe Asian Cup 2004. [newsphoto]

Xia's girl friend Nie Jingjing said:"I do not know much about soccer. But he (Xia) told me it is a very important game, so I have decided to watch.''

A couple in Beijing is planning to hold their wedding ceremony on Saturday night at a bar.

"Originally we hired a band. But now I have cancelled it and asked them to arrange to show the match,'' said wife Zhang Nan. Her husband is a soccer fan.

Also ready for the rush are bars, which have become a resort for soccer fans in recent years.

"We are sure going to show the game,'' said Wang, a bartender in the Milan Club in Beijing's Sanlitun region, which is famous for bars.

He said showing the football games helped attract more customers.

Most Chinese football fans are confident that the victory will be China's.

"After beating Iran for the first time in 10 years, the Chinese team has got high morale, which is very important for winning a game,'' said Ji Zhi, a fan in Xi'an, Northwest China's Shaanxi Province.

"And do not forget, China is the host,'' he said.

Xia said the Japanese team did not gather the best players in Japan, while China has the best of its players.

Besides, many of the Japanese players will soon take part in matches at the Athens Olympic Games. Xia believes such players will be worrying about conserving their physical strength.

"I think the Chinese team has the right time, right place and right chance to win the Asian Cup,'' he said.

However, some fans remain cautious about winning the cup.

"Just think about what happened in the Euro 2004 tournament. Everybody believed Portugal would win. But they lost,'' said a Beijing fan, Hei Liang.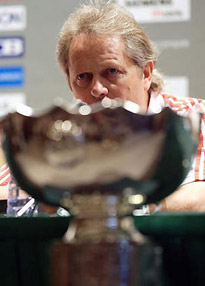 The head coach of China's national team Arie Haan looks at the Asian Cup at a press conference Friday in Beijing. [newsphoto]

On July 5, hosts Portugal were unexpectedly beaten by Greece in the Euro 2004 tournament final.

Hei said great expectations from all walks of life would impose much pressure on the Chinese players, which may cause them to perform poorly.

"But as a Chinese, I really hope such a thing will never happen,'' he said.

Wu Yu, a fan in Guangzhou, capital of South China's Guangdong Province, said if China does lose, he will continue to support China's soccer team.

"After all, it is just a game and failure is not the end of the world, I pay more attention to the joy soccer brings for me, not the results,'' he said.

And failure might make people cool down.

"Everybody has to admit that the Chinese team is not the number one in Asia,'' Wu said.




Today's Top News
Top China News

Global aid sought to check Taipei separatists




Drill tests Sino-Pakistani forces




Mapping of fatalities forecasts death trends




Teachers needed for surging college students




Asian Cup finals fever hits capital




Cultural expo touts industry