Nude swimming area to open
(chinadaily.com.cn)
Updated: 2004-08-06 16:51
A nude swimming area, claiming to be the first in China, has been set up in Linan West Zhejiang Scenery Area, east China's Zhejiang Province, and is to open on August 12.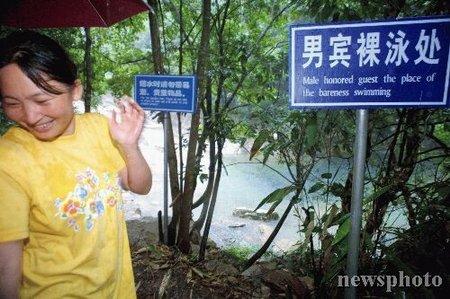 A woman flushes upon reading a notice that says: "Naked Swimming Allowed (for males)" at a scenic spot in Lin'an city, East China's Zhejiang Province, August 4, 2004. [newsphoto]

Located 80 kilometres away from Hangzhou, the provincial capital city, the idea of setting up this nude swimming area was inspired by a n incident that happened a few days -- eight female university students took off their clothes and swam naked when they were playing; this scene embarrassed the security guards of the beach.

Nevertheless, regardless the embarrassment of the guards, the person-in-charge of the scenery area immediately erected a sign writing "nude swimming area" on it. Even though the sign was removed due to the protest of other visitors, it was re-erected afterwards.

The customer service department of Linan West Zhejiang Beach Area confirmed the nude swimming area will be officially opened to the public August 12.

However, this has led to much controversy, and opinions are divided towards this idea.

Salesperson Mr. Li says that nude swimming may corrupt public morals and should be banned. "In human phylogeny it was an advancement for us from being naked to clothed," he said. "Nude swimming is an uncivilized act that is going against the trend."

A secondary school teacher, refusing to identify herself, said that she feels shocked about the idea. She thinks this kind of "openess" is too much for people to accept and should be condemned because it disrespects others.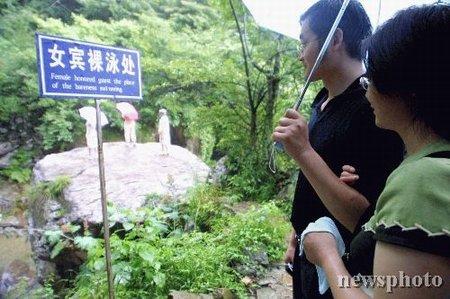 A couple reads a blue notice sign that says "Nude Swimming Allowed (for women)." [newsphoto]

But, Ms. Zhang, who lives in Gulou of Hangzhou, believes that as long as it does not affect other people, nude swimming is acceptable. "Some winter-swimmers also swim naked," she said. "Acceptance of nude swimming means advancement in the society."

An aged man said that nude swimming is actually quite common in Europe and America. "There are nude beaches in Hawaii and the Mediterranean," he said, "nude swimming is just a style of relaxing and a return to the nature."

An official, surnamed Shi, from the Policy Department of Hangzhou Tourism Bureau, said that "nude swimming area" is a gimmick of the scenery area, and adds that it is up to the administrators of the scenery area to decide their own business items; however, she admits that since the item involves "nudity", the case may be a bit more complicated.

An official from Zhejiang Tourism Bureau says that it is more important to consider the administration of the nude beaches. "Nude beaches overseas are usually closed areas which are easy to manage," he said, "while Linan West Zhejiang Scenery Area is administered by several departments, we have to clarify their responsibilities and make sure that the nude beach is managed properly."

Lawyer Qian Xuehui said any civil activity can be accepted if it can respect the social morality and does not harm the public interest. There is no law banning nude swimming or nude beaches in China, she added.

However, she points out that everything should have a limit. In any case that the nude swimming actually causes disturbance to the others or if it becomes an organized activity, causing public security problems or criminal acts, it will be punished by the regulations on the order of public security.

While Professor Liu Zhijun of Zhejiang University Sociology Department reveals that it is a common thing in some foreign countries to have nude swimming or hotspring bathing, he acknowledges that many Chinese people cannot accept it due to a different standard of morality in China.

In addition, he disagrees with the people who use nude beaches as a business item to make profits. "Nude swimming is a natural thing and has a long history," he said, "however, the idea of using it as a gimmick to attract customers should not be advocated."




| | |
| --- | --- |
| | |
| The 59th anniversary of the Hiroshima bombing | |

| | |
| --- | --- |
| | |
| Singer Wang Feng to give Beijing solo September | |

| | |
| --- | --- |
| | |
| Lee-Hom Wang to sing solo in Beijing | |
Today's Top News
Top Life News

Japan defeats China in Asian Cup final




Global aid sought to check Taipei separatists




Drill tests Sino-Pakistani forces




Mapping of fatalities forecasts death trends




Mentally ill child killer gains sympathy




Adult sex toy expo touches sensitive area