Shanghai adult sex toy fair hits the spot
(Agencies)
Updated: 2004-08-06 16:11
Wu Xiao never thought he'd see the day -- China's first officially sanctioned exhibition of adult toys, complete with leather body suits, vibrating rubber tongues and even a U.S. adult movie star.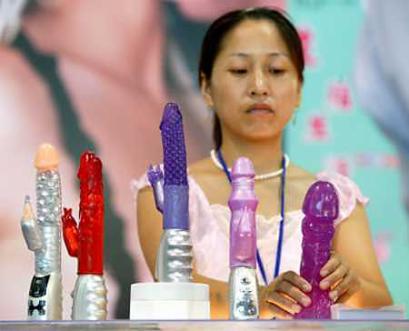 A Chinese saleswoman prepares items for display at China's first ever officially-sanctioned and largest exhibition of adult toys in Shanghai August 6, 2004. [Reuters]

"It's revolutionary!" enthused Wu, the Shanghai sales manager for Wenzhou Lover Health Product Co Ltd, China's largest producer of what are known euphemistically in China as "adult health products."

"China's changed so much since we started," he said at the show where dildos, vibrators, flavored lubricants and condoms of every conceivable shape, size and color were on display.

Since China began opening up again in the late 1970s, attitudes to sex have begun cautiously to change -- to the extent that the Shanghai government approved the show that opened on Friday.

Opinions are changing fast, say industry insiders.

"It's true, there was some opposition when we went into business 11 years ago," Wu Wei, president of Wenzhou Lover, told Reuters, adding that he often test drove new products personally.

"Nobody else was making them and we saw the opportunity. I mean, there's 1.3 billion people in China. What a market!" said 35-year-old Wu Wei, a native of the southern coastal town of Wenzhou, regarded as the cradle of private business in China.

The company is doing so well now that Wu predicted a 50 percent rise in revenue this year from about $10 million in 2003, and is even contemplating a stock market listing. It sells mainly to markets in Japan, the United States and Europe.

"When we are number one or two in the world, then we'll list. I'm sure that won't be long," Wu Wei said, as curious visitors peered at the multi-colored gadgets on sale.

LOOKING FOR LOCAL GROWTH

Firms like Wenzhou Lover still face a struggle to persuade Chinese to use toys that carry names such as "The Salsa Shaker," "Pleasure Periscope" and the unnerving-sounding "The Emperor."

"We still sell 90 percent of our goods abroad," sighed Fang Hong, general manager of U.S.-invested firm Shaki Shenzhen. "It will take at least 10 years to reverse that so we are selling mainly in China. Chinese just don't get the concept of fun yet."

The use of sex toys has a recorded history of thousands of years.

Pirated and illegal hard-core pornography still could be bought despite of the nation's crackdown on pornography.

U.S. adult movie star Cindy Crawford attended the expo. Resplendent in pink mini-skirt and revealing plaid top, Crawford -- no relation to the world-famous U.S. supermodel of the same name -- was mobbed by Chinese men wanting her autograph because they believed she was her more famous namesake.

"I don't have one of those," said Xie Huazhen, who had come from the southern province of Guangdong just to go to the show, as she giggled into her handbag and looked at Crawford's own range of adult toys.

"Actually, yes I do. I have several," she admitted sheepishly a second later, before scurrying off to another booth.




| | |
| --- | --- |
| | |
| The 59th anniversary of the Hiroshima bombing | |

| | |
| --- | --- |
| | |
| Singer Wang Feng to give Beijing solo September | |

| | |
| --- | --- |
| | |
| Lee-Hom Wang to sing solo in Beijing | |
Today's Top News
Top Life News

Global aid sought to check Taipei separatists




Drill tests Sino-Pakistani forces




Mapping of fatalities forecasts death trends




Teachers needed for surging college students




Asian Cup finals fever hits capital




Mentally ill child killer gains sympathy