DJing starts from scratch
(China Daily)
Updated: 2004-08-04 08:55
Marking another tiny step in the evolution of China's music industry, Chen Shen, widely known as Shorty S and arguably the country's best scratch DJ, has spun his way from Beijing to London.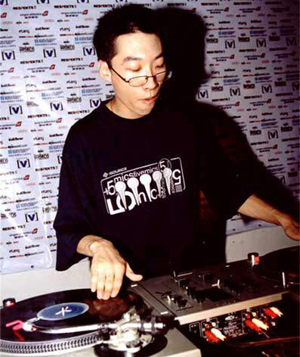 Master DJ...Shorty S (Chinese name Chen Shen) in deep concentration during the DMC China 2004 competition held in Beijing on July 23. [file photo]

Scratch DJs are relatively new in China. They use old-fashioned vinyl records on turntables and combine tracks to produce new sounds.

In the West, they have been around for decades. Here, scratch DJs started to develop about three years ago.

And like most things in China, "scratching" is growing and improving, albeit very slowly.

"It is still an underground thing. You have to be connected to the people, or the music, or hip hop," said Didier Denise, president of DMC China, the Chinese arm of DMC, a DJ competition held around the world.

Like many other cultural movements, "scratching" is mostly rooted in the big cities but growth is sluggish.

"We're waiting for a shift in the public's mindset. They should not always listen to the slow melodies of love songs. They need something that has the passion of the young and which is more uplifting and lively. They need to absorb diverse music ingredients," said Shorty S, a slight and young looking Chinese man.

"In particular, we hope the media will cultivate a broader taste and pay more attention to DJing. They should not always focus on pop songs."

The result, claims Shorty S, is young people have only limited access to the art of DJing and other music styles.

Grove competition

But for Shorty S and other scratch DJs, there is hope.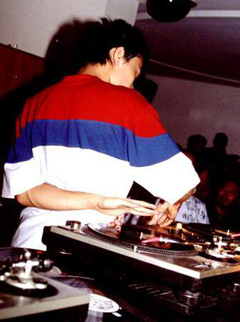 Scratch my back...A Chinese DJ works the decks with his back turned during the competition. [file photo]กก

On July 23, some 500 souls packed into the Yan Club, in northeastern Beijing's trendy Dashanzi area to watch nine competitors play 6-minute sets - each hoping to win the DMC China title.

The Yan Club is a big open space. There is a stage at the far end and cement tiered stands opposite. In between, an open floor can pack over 1,000 people. It is an ideal venue for China's premier DJing competition.

He was among the small but talented DJing elite making the vinyl sizzle with quick wrist movements and deft touches.

The DMC competition is almost two decades old in other countries. In Canada and the United States, thousands of DJs vie for top honours in more than 35 cities. In Japan, more than 1,000 people competed recently.

The crowd may be smaller in Beijing, but the level of competitiveness is the same.

"We only had nine DJs but the level has improved from last year," said Gary Wang, whose professional name is DJ V-Nutz.

Wang, 32, won the first DMC competition back in 2002 and was a judge this year.

"The DJs are still a small clique in China. DJ fans are mainly fashion-conscious young guys who are fond of hip-pop, and some expats," said Shorty.

"I'm not sure what the reason is for the slow growth. Maybe money is a factor. Chinese people are not as rich as Westerners, to whom DJ equipment is just like toys."

Shorty S has been plying his craft for four years. He was a skateboarding fan and occasionally listened to hip-hop. Then one day he went to a DJ party - and was hooked. He fell in with another DJ to buy some equipment. Eventually he bought his own turntable and some vinyl records and his scratching career was launched.

"I improved my DJing skills mainly by watching videos, particularly the records of foreign competitions and at live DJing parties. I also had the advantage of practising with foreign friends often."

Wang's own trek to the turntables was almost tailor made to help him bridge the gap between China and the outside world. He moved to Japan in 1993 and worked at a clothing store that catered to the hip-hop crowd. Somewhere down the line he got interested in DJing.

By 1999, he had saved a fair amount of money and decided to invest in equipment. When he moved back to China he was on his way to DJing success.

It wasn't until 2002, with the first DMC competition appeared on the horizon, that he started looking at scratching. He was pushed by friends to enter the competition. With only a couple of months to learn and practise, he won the competition in August that year.

Like Shorty S, he also travelled to London to compete a month after.

"If you ask me, the DMC in China is still not world level. We don't have that many DJs and the battle scene is only three years old," Wang said.

At the same time, he says China is put on a scale with countries where the scene is fully developed instead of places where it is just starting.

"We are not compared to Africa. We are compared to the West, but the situation here is still not open to the world."

He is in contact with DJs in Japan and the US, which puts him in a position to compare notes. He also works to bring over foreign acts, most recently Canadian DJ Kid Koala, who performed in Shanghai and later to a packed house at The Mix in Beijing.

Gaping disparity

The disparity in ability and experience was visible even to inexperienced eyes and ears. Granted, Kid Koala is at the top of the game worldwide but he worked simultaneously on three turntables and combined music of almost every genre possible:jazz to hip hop and everything in between.

The difference is simple. He has vast experience. In his native Canada, he has easy access to equipment and stacks of vinyl to sample from - not to mention his peers and mentors who push him along.

"Equipment here is hard to buy and it is more expensive (in China)," said Wang.

"That, combined with lower incomes, means that any DJ that wants to make a go of the business has to be truly dedicated.

"Imagine a young man, who earns 2,000 yuan (US$242) a month, saving to buy a single turntable that costs 9,000 yuan (US$1087) or having to figure out a way to buy records through the Internet- vinyl simply cannot be found here - for about 100 yuan (US$12) a piece."

The differences between China and the West are still staggering and put young DJs in a difficult position. Few are likely to overcome such hurdles in the near future.

In the West, DJs are employed by record companies and they work with pop stars to do their mixing. They are accepted by the orthodox music culture and their role is not second to singers.

"China is still a poor country. A lot of people want to become DJs because they think it's cool but it's not easy," Shorty S said. "But if you enjoy it and you have fun, then it is totally worth it. I could not go back to an office."

In China, even the top DJs have to figure out a way to play and a way to pay.

"In China, DJs often work (at something else) for money and this makes them very tired."

There are other frustrations. Sometimes DJs cannot obtain approval for organizing a party. The local officials would argue that the noise can disturb peace in the neighbourhood, explained Shorty S.

"Of course, DJs themselves should keep moving forward. They must not give up the true things in music because they are struggling for money," he said.

"Excellent DJs are few in China and they live in different places. The small clique of DJs has little leverage over the general public. So it will take time to make DJing accepted by more and more people. Maybe by the time the Beijing Olympics are held, things will be different," Shorty S said.

"It is impossible to make money given the limited market at present," he added.

Still, for Shorty S, spinning vinyl on a couple of turntables provides it's own motivation.

"DJing is very important and it's avant garde. I think the themes of DJ music are positive and uplifting. DJing stands for a careful and deep-searching attitude toward things you're doing, particularly when you want to be the best," he said.

"I think DJing is going to have a very, very large market in the future in China."




| | |
| --- | --- |
| | |
| Nicolas Cage weds 20-year-old former waitress | |

| | |
| --- | --- |
| | |
| The tidbits of Beijing life | |

| | |
| --- | --- |
| | |
| Liu Xuan issues new book for youth | |
Today's Top News
Top Life News

Measures go online to protect surfers




President Hu to US: Keep promises on Taiwan




East-west gas pipeline wrapped up




Toxic bombs confirmed as Japan's ammo




Medical team heads for Tibet




Pilot stores for Olympic products to start