East-west gas pipeline wrapped up
By Fu Jing (China Daily)
Updated: 2004-08-03 23:46
China's lengthened East-West gas pipeline project was completed Tuesday, one year ahead of schedule.
The pipeline, which runs more than 4,000 kilometres, will put into trial operation from October 1 and formal utilization scheduled to take place January 1 next year, National Development and Reform Commission officials told China Daily.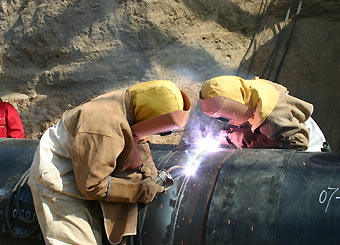 Welders work on the final touches of the East-West natural gas pipeline Tuesday in Northwest China's Gansu Province. The 4,000-kilometre pipeline was started on July 4, 2002. Gas is expected to start flowing on October 1. [Xinhua]


Commission Vice-Minister Zhang Guobao recently said the project's major operator, PetroChina, has signed gas supply contracts with 20 users in Henan, Anhui, Jiangsu and Zhejiang provinces, as well as Shanghai. In all, they will use up to 6.7 billion cubic metres of gas.

The last pipe for the landmark project that will pump natural gas from the resource-rich west to the energy-thirsty east was welded Tuesday morning.

The US$5.2 billion project began two years ago. It will transport natural gas from the remote Xinjiang Uygur Autonomous Region to the economic hub of Shanghai and other regions of the Yangtze River Delta.

The commission said the project benefits both coastal regions and western areas.

Tarim Basin in Xinjiang and the Changqing gas field in Shaanxi Province will become major sources of the natural gas.

Sun Longde, general manager of the Tarim Oilfield Company, said natural gas reserves totalling 657.9 billion cubic metres have been proven in the Tarim Basin in the Xinjiang Uygur Autonomous Region, which will ensure a long-term stable supply of gas to energy-thirsty eastern China.

Potential gas reserves in Tarim, China's largest inland basin extending 530,000 square kilometres, are expected to reach 8.4 trillion cubic metres, or a quarter of China's total natural gas resources on land.

Over the past 15 years, the company has discovered 40 gas fields, where 1.38 trillion cubic metres of gas has been verified, said Sun.

Beginning January 1 of next year,the company will pump natural gas to the east-west pipeline, a key State project targeted for sending 12 billion cubic meters of gas a year.

The annual production of the oilfield is expected to be 14 billion cubic metres by then.

Sun said his company is working toward an annual gas production capacity of 30 billion cubic metres a year so that it can ensure a stable supply to the pipeline for about 30 years.

As China faces its most serious electricity shortage in 20 years, natural gas users have decided to use the resource to generate more power. The government has approved at least 35 thermal electricity plants in the Yangtze River Delta this year.

Senior officials from Shanghai said natural gas will replace coal in Shanghai by 2010, as part of the government's plan to promote the use of clean energy.

Yu Beihua, deputy director of the Shanghai Development and Reform Commission said natural gas will entirely replace coal and will make up 10 per cent of the city's primary source of energy by 2010.

Coal now accounts for 60 per cent of the energy consumed in Shanghai, China's largest energy consumer, down 12 per cent since 1994.

Shanghai currently has two sources of natural gas, one is from the Pinghu Natural Gas Field in East Sea, about 360 kilometres offshore from Shanghai. The other is from the Changqing gas field from Northwest China's Shaanxi Province through the giant East-West Pipeline Project.

"Without the gas from the west, Shanghai would have had a hard time last winter," said Xu Dingming, director general of the Energy Bureau of NDRC.

He added that Shanghai will use natural gas from the Tarim Basin in northwestern China's Xinjiang Uygur Autonomous Region through the east-west pipeline by the end of this year.




Today's Top News
Top China News

Measures go online to protect surfers




East-west gas pipeline wrapped up




Toxic weapons confirmed as war munitions left by Japan




Medical team heads for Tibet




John Kerry: Bush policies encourage terrorism




China tackles underlying economic problems