Toxic bombs confirmed as Japan's ammo
By Cao Desheng (China Daily)
Updated: 2004-08-03 23:46
Japanese experts confirmed Tuesday that chemical weapons responsible for injuring two school boys in northeastern China were left behind by Japanese troops during World War II.
The experts arrived at the conclusion after investigating the weapons uncovered in Lianhuapao Village in Dunhua, Jilin Province, a Ministry of Foreign Affairs officials said. The seven-member team of officials from Japan's special office for abandoned chemical weapons disposal, left Dunhua Tuesday after visiting the two victims in a local hospital.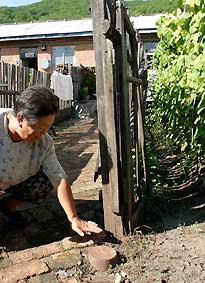 Part of a rusty shell is seen revealable in a backyard of a farmer's house in Dunhua, northeastern China's Jilin Province, Monday, August 2, 2004. [newsphoto]

Further action will be taken in mid-August when the Japanese team will travel back to the area again to deal with additional such weapons, insiders say.

Before leaving the northeastern Chinese city, they received compensation demands from the parents of the victims through the local government. The officials said they would submit the demands to the Japanese Government.

Liu Hao and Zhou Tong, the two young victims, uncovered a 50-centimeter-long barrel full of chemicals on July 24 when they were playing near a river close to their village.

Out of curiosity, one of the boys pried open the rusted weapon and toxic liquid flowing out of the barrel splashed onto the children's fingers and legs, injuring the boys.

Nine-year-old Liu was found to have had additional blisters on his right leg Tuesday,the child's father said.

The boy is suffering great agony because of the sharp pain in the injured area,the father told local media.

Local people complain the Japanese side has been sluggish and reluctant in disposing of the chemical weapons in the area, where some 670,000 chemical weapons were reported to have been dumped by Japanese troops during World War II.

According to a Chemical Weapons Convention signed by two governments in 1997, Japan promised to finish the work of disposing all chemical weapons it abandoned in China by 2007.

In line with the current lengthy process, however,it appears to be impossible for that to occur on time, the Chengshi Wanbao Newspaper quoted local people as saying.




Today's Top News
Top China News

Measures go online to protect surfers




East-west gas pipeline wrapped up




Toxic bombs confirmed as Japan's ammo




Medical team heads for Tibet




China tackles underlying economic problems




Father: I'll only feed you until you're 18