It's time to bring out the dancing shoes
(Agencies)
Updated: 2004-08-03 15:22
Liu Ping wanted so badly to be graceful, to dance away the night under the stars like all those romantic couples she'd watched on TV. She also needed to lose a little weight.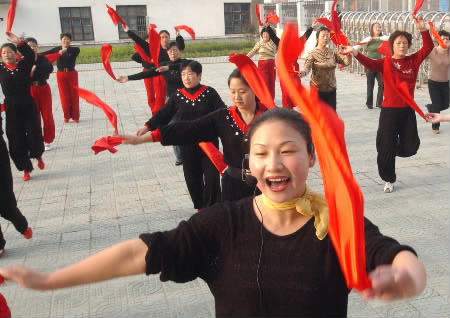 Women of different ages get together to practice 'yang ge,' a traditional Chinese folk dance, in a vacant lot of a Beijing community center during the cooler hours of a summer morning. [baidu]

The chubby 47-year-old recently decided to study ballroom dancing, but her husband refused. To dance, he insisted, wasn't masculine.

So one Sunday evening, Liu arrived alone at a city park for her first lesson. She and a woman old enough to be her mother moved awkwardly through the steps of a waltz ! like two sumo wrestlers grappling for advantage ! as a drill-sergeant instructor barked out commands through a megaphone.

"It looks easy on television," Liu said during a break. "But it's hard to learn."

It's summer in China. And for millions of residents, that means it's time to dance.

Morning and evening, during the cooler hours of the day, middle-aged workers and graying retirees gather in vacant lots, neighborhood parks, elegant public squares and even under bridges for what has become a generational rite of passage.

The young may dance to a hip-hop beat in packed nightclubs, but more and more older people are taking up dance with a vengeance, seeking exercise, companionship and fun. And in an increasingly modern country, as children leave home to find their fortunes, their parents dance to stave off the loneliness of a phenomenon new to this society: empty-nest syndrome.

Many Chinese, like Liu, prefer ballroom dancing, in keeping with a revival that has recently swept across Asia. Others choose a traditional folk dance known as yangge, in which mostly older women perform a quirky combination of line dancing and ancient Chinese step patterns ! all to the cacophonous beat of drums and cymbals.

More than 30 million Chinese ! about the population of California ! regularly perform what the government calls sports dancing, including the waltz, the jitterbug and the rumba. An equal number prefer yangge, according to statistics from the Chinese DanceSport Federation.

In Beijing, an estimated 60,000 women flock each night to popular yangge events. Dressed in bright costumes and accentuated makeup, waving fans and ribbons, they sweat and stamp their feet, often just a few feet from couples sweeping about in organized ballroom dance routines.

In Chongqing, in central China, 10,000 residents often gather in the city's mammoth public square both for yangge and ballroom dancing.

Rather than frequenting private clubs or dance halls, many Chinese prefer to shake their groove thing outdoors, where the dancing is free. Many throw impromptu open-air dance parties that have the feel of an ice rink in reverse: The more advanced take to the outside while the beginners wobble about in the middle.

Ballroom dance was introduced to China in the 1920s at the Shanghai ballroom known as Bailemen. As legend has it, even Chairman Mao Tse-tung liked to cut a rug, though he outlawed ballroom dancing for ordinary Chinese throughout the 1966-76 Cultural Revolution.

Some say the structured moves of dances such as the waltz are a way to bring order to a chaotic world, comparing it with the calm brought by the fluid movements of tai chi. For many Chinese, the dance moves of yangge hark back to the regimented exercises they were required to perform as schoolchildren.

For whatever reason, ballroom dance coach Guo Haizha said, business is booming.

"Ever since the SARS scare, people pay more attention to exercise as a way to stay healthy," he said. Guo charges a one-time fee of 60 yuan, or $7, and students can keep coming back until they learn to dance. His outdoor classes are packed.

In 10 years, Guo said, he has been tempted to refund a student's money only once, to a short, middle-aged man who came each night for four months and still could not master the steps to the waltz. He stepped on toes. Tempers flared.

Then one night, almost inexplicably, the man got it. "Now he can dance," Guo said, "but he can't always remember the steps."

Still, many Chinese men consider ballroom dancing too feminine. "So we have many all-female pairs," said Yin Guochen, general secretary of the Chinese DanceSport Federation. "People are traditional. Many think that having an unmarried man and women as dance partners might cause problems, like an affair."

At Guo's class near Beijing's Behai Park, conducted at the end of a large open space along a lake where hundreds of residents milled about ! walking with their babies, doing qigong exercises or just taking in the night air ! a dozen couples moved in unison to the tinny sound of an old Communist revolutionary song that goes, "Fish can't live without water, flowers can't live without stems, and China can't live without Chairman Mao."

In the packed park, a bicyclist riding through the clutch of students was almost socked in the face as a dancer thrust out a hand in an exaggerated move.

Retired book publisher Fan Houyun is a class regular. With his sweat-ringed muscle T-shirt and round glasses, the 73-year-old looks more like a lumbering Marlon Brando than a fluid Fred Astaire. As in the bird kingdom, where males are more colorful than females, men are just more vivid on the dance floor, he contended.

"A good male dancer can make a female look better," he said.

Several miles away, beneath a busy freeway bridge in working-class south Beijing, Wan Xiuyin didn't need a male partner to make her dancing come alive.

Most nights, she and her two best friends don bright red blouses, put their makeup on thick and head out for a few hours of yangge dancing. In a generational twist, their daughters sometimes get embarrassed about the way they dress.

But Wan doesn't care. In a male-dominated culture, yangge is all about freedom: "We want to look good as a unit," she said. "And that means lots of red and lots of eye makeup."

Yangge dates back more than 1,000 years to the Tang Dynasty but gained a modern following in the 1940s when the Communist armies fighting against Japan choreographed new movements of the folk dance.

To the deafening drum and cymbal beat that echoed under the bridge, Wan and her crew moved in step, fluttering bamboo umbrellas that resembled larger versions of those little parasols that come in exotic drinks.

"We pretend we're in the countryside harvesting wheat or riding horses," the 48-year-old seamstress said.

Yangge has its critics. Many complain that such rural entertainment doesn't fit a sophisticated city such as Beijing. Many ballroom dancers look down their noses at the hordes of yangge enthusiasts.

And yangge's accompanying drumbeat disturbs people nearby. Many yangge events are held beneath overpasses, where the noise can be more contained.

Still, the government is looking to regulate the dance form by simplifying the steps and replacing musicians with tape players.

But Wan's recent yangge fest had the let-loose feel of a Grateful Dead concert. One woman in a blue dress shook her head and pranced about under the bridge as though in some hallucinogenic stupor.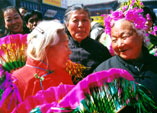 Yang Guohua, a 40-year-old ballroom dance fan wearing a Kurt Cobain T-shirt, shook his head in disgust. Stopping to watch the woman dance, the businessman ! whose cellphone ringer plays waltz music ! had seen enough.
"If she were my wife," he said, "I'd kill myself."
| | |
| --- | --- |
| | |
| Nicolas Cage weds 20-year-old former waitress | |

| | |
| --- | --- |
| | |
| The tidbits of Beijing life | |

| | |
| --- | --- |
| | |
| Liu Xuan issues new book for youth | |
Today's Top News
Top Life News

Father: I'll only feed you until you're 18




Lee's visit hampers free-trade talks




HSBC confirms 19.9% stake in Chinese bank




Kerry: Bush policies encourage terrorism




Japanese probing chemical weapons




Taxes to be levied on expatriates